I tend not to make resolutions because they remind me of raising my hand in fifth grade while praying Please don't call on me, please don't call on me. I wanted to be one of the kids who knew the answer, but rather than studying fractions or Latin declensions, I preferred to read novels about dreamy young women who become celebrated geniuses without appearing to labor.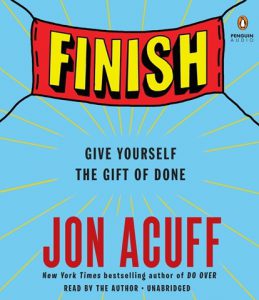 But that only took me as far as being told, "You really could be a B student in this class, instead of a C, if only you would believe in your abilities and focus for the next 53 minutes." An admonition that brings me to Jon Acuff's engaging reading of his own START and FINISH. They're motivating, often witty how-to books that assume you have a brain. Listening, I imagine him earnestly covered in chalk dust, as was Mrs. Samsell at the end of every math class.
Once begun on getting my act together, I seek the company of inspirational heroes. Nelson Mandela's DARE NOT LINGER, beautifully performed by Adrian Lester, is a collection of speeches that comprise his second (and unfinished) memoir. They lift and encourage and dazzle so much that I've listened more than once.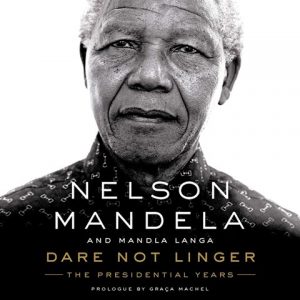 Mandela's greatness included a gift for turning his face toward the sun even in the worst circumstances. Meik Wiking's narration of his guide to a glass-half-full perspective, THE LITTLE BOOK OF LYKKE: SECRETS OF THE WORLD'S HAPPIEST PEOPLE, charms with research and practical tips. And whether or not you decide to bike to work as recommended, Wiking's cheerful Danish accent will — strange but true — make you want to. (You'll also want to listen to THE LITTLE BOOK OF HYGGE, an earlier audiobook by the Director of Copenhagen's Happiness Research Institute.)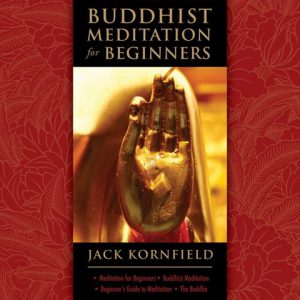 Happiness brings me to meditation, which I practice inconsistently and wholeheartedly. While I know thirty minutes a day would offer me greater equanimity about life, even two minutes of attentive breathing in the supermarket checkout line helps me navigate icy winter sidewalks and my craving for carrot cake. When I need a refresher, say every January or so, I turn to Jack Kornfield's BUDDHIST MEDITATION FOR BEGINNERS, a marvelous collection of funny, wise lectures and guided meditations.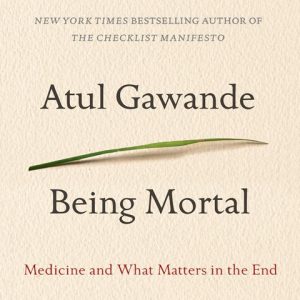 Finally, although I purport not to make resolutions, I'm always reaching toward wisdom, kindness, and as we say in my family, more "thoughtiness." Atul Gawande's amazing BEING MORTAL has it all. Nominally a consideration of how we Americans approach illness and death, it's actually an essay on living fully. Robert Petkoff won an Earphones Award for his fine performance, thus adding the book to my list of annual January listening.
Here's to a Happy New Year that's full of good listening. What's on your list of audio inspiration?