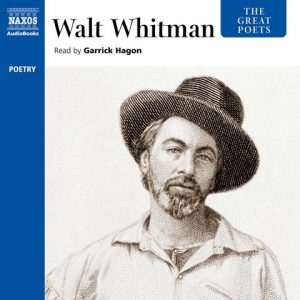 "Focus on something. It'll steady your nerves," my mother advised. That's why I stared fixedly at Mr. Potter the Latin teacher throughout my 6th grade recitation of "Oh Captain, My Captain" by Walt Whitman. Mr. Potter smiled benignly. And when my nerves settled, the words rose, heated, as they had not when I'd practiced, surprising me into passion. In the years since, I've found that whether in the midst of joy or sorrow, wistfulness or contentment, poetry speaks intimately to the heart and mind. It also demands to be spoken.
White men who died long ago wrote most of the poetry I learned in school. I still turn to it because the guys, including Whitman, really could write. Naxos AudioBooks' Great Poets series has a fine collection, including Garrick Hagon's Earphones Award performance of Whitman's best known poems in THE GREAT POETS: WALT WHITMAN.
The series also recognizes my personal favorite, Emily Dickinson. Dead and white, yes, but so fierce and oblique. Her non-traditional haiku are forever timely, reshaping themselves to my need, be it surviving age fifteen, reveling in love, mourning a loss. I like a look of Agony, Because I know it's true… I often play FIFTY POEMS OF EMILY DICKINSON, VOLUMES ONE AND TWO (making 100 poems), whose cast of excellent readers includes Meryl Streep and Alfre Woodard.
Caught up in life and its accompanying prose, I mostly fell away from verse in my thirties. Even poetry slams and the wonder of Maya Angelou didn't entice. Dare I admit that poetry seemed difficult? I needed a guide. Enter Garrison Keillor, whose daily poem on radio's The Writer's Almanac brought me back to the fold. It was like getting healthy again. His anthology GOOD POEMS is a marvel and well worth adding to your stuck-in-traffic playlist. As is Caroline Kennedy's anthology SHE WALKS IN BEAUTY, verses about the female life experience, given an Earphones Award reading by such performers as Jane Alexander and Campbell Scott.
With Keillor's introduction, I listened to poets reading their own work, including the majestic Angelou — try her CELEBRATIONS and AMAZING PEACE. Former poet laureate Billy Collins delights with his conversational approach and appreciation of life's small moments. His AIMLESS LOVE is permanently on my playlist. But my heart is always propped up in a field on its tripod, ready for the next arrow. And another poet laureate, Tracy K. Smith, whose exploration of the everyday and the universe, LIFE ON MARS, is its own kind of spaceship.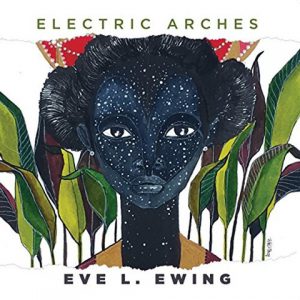 In WEST MOUNTAIN EPILOGUE, Jay Parini writes movingly about the often imperfect lives of modern men. As he might in a live performance, he also discusses the poems' origins. It's a useful and engaging approach. Finally, I want to shout about Eve L. Ewing's marvelous new collection ELECTRIC ARCHES, which sent me on a journey into the female and black experience — "Why You Cannot Touch My Hair" is the title of one great poem I applaud. Actually, they're all great. Ewing's vibrant honesty made me feel both other and similar, and thrilled to be in her company.  With these artists to listen to, and more busily writing and recording, I'll not stray from poetry again.