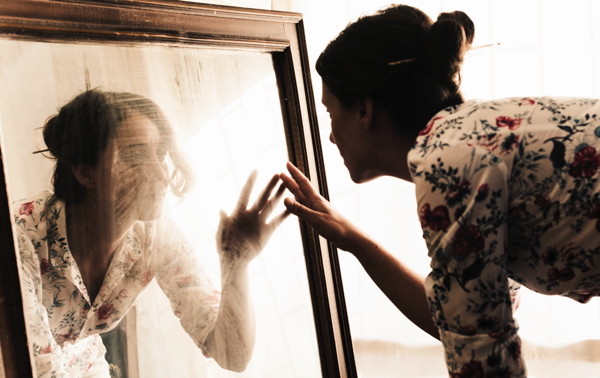 Audiobook listeners are fortunate in a number of ways. The recent stream of memoirs AudioFile has reviewed makes me think of a specific benefit of listening: hearing the authentic voices of the authors. Starting off with a memoir by a person you admire or want to know more about—Michelle Obama, Trevor Noah, Tina Fey—is a great "first listen" if you're new to audiobooks. It's also a way to savor the special intimacy and authenticity an author-read life story brings. In audiobook memoirs we get to hear a unique combination of voice and text. Let's look at some recent audiobook memoirs AudioFile recommends.
Actress Kate Mulgrew is a favorite with listeners—and a seasoned audiobook narrator (she's read several audiobooks by Joe Hill, including THE FIREMAN and THE GIRL FROM THE METROPOL HOTEL), and her first memoir, BORN WITH TEETH, won an Audie Award in 2016. So listeners are eager for her new audiobook HOW TO FORGET: A Daughter's Memoir, a story about caring for her parents. She has a polished delivery and yet creates a sense of real intimacy. There are similarities with Nora McInerny's second memoir, NO HAPPY ENDINGS. McInerny is an experienced speaker and host of the podcast "Terrible, Thanks for Asking." Her narration is cheeky, but listeners still experience the deep emotion of McInerny's losses. AudioFile reviewer Amanda Murphy writes, "One cannot help but empathize with McInerny's story, which is full of wry humor, profound sadness, and hesitant hope."
Joe Namath, legendary quarterback for the New York Jets in the 1960s, gives us his career story in ALL THE WAY: My Life in Four Quarters. What an authentic voice we hear—he could be giving a post-game interview. In NOTES FROM A YOUNG BLACK CHEF, we hear Kwame Onwuachi share about the ups and downs of his career as a chef. He lets his indignation at the restaurant industry come through not just in his words but also in the emotion of his narration. Public speaking is not usually in a chef's skill set, but Onwuachi brings his story home.
Audiobooks about cooking and food are often a hit. Actor Tembi Locke finds solace in the healing power of food in her memoir FROM SCRATCH: A Memoir of Love, Sicily, and Finding Home, and listeners can revel in this cross-cultural love story. Celebrated editor and food writer Ruth Reichl has a special gift for audiobook memoirs, and SAVE ME THE PLUMS, her sixth memoir, is another treat for listeners. This audiobook takes on Reichl's decade as editor in chief of Gourmet magazine. Food and magazine publishing—of course we loved this!
Chris Wilson has quite a story to tell. In his shocking and inspiring memoir THE MASTER PLAN: My Journey From Life in Prison to a Life of Purpose, he takes  listeners on an astonishing journey. Wilson talks us through the "combat zone" of Washington, DC, streets and then prison, where he serves years of a life sentence, to turning his life around and becoming a successful social entrepreneur. The clear authenticity of this audiobook packs a wallop. Thomas Page McBee throws another kind of punch in AMATEUR: A True Story of What Makes a Man. McBee is a writer and an amateur boxer, and he was the first trans man to fight at Madison Square Garden. Hearing McBee narrate his own exploration of gender and masculinity adds immediacy and personality to his compelling story.
AudioFile's social media editor Francisca Goldsmith shared a favorite quote that captures this idea: "People are experts on their own lives." Audiobook memoirs have a unique ability to get across the author's reality and self-perception, because we hear it in the emotional tone of their voice, not simply in their words. These featured audiobook memoirs, recently published and reviewed, are but a small sampling of the many lives we can listen to.