Travis Baldree, the author and narrator of BOOKSHOPS & BONEDUST, tells AudioFile listeners about this highly anticipated prequel to his cozy fantasy audiobook, LEGENDS & LATTES. We learn more about orc Viv in a novel about stories and the ways that we connect to other people through them.
"The story's largely about the small seeds that are planted early in life that bloom much later in unexpected ways."—Author & narrator Travis Baldree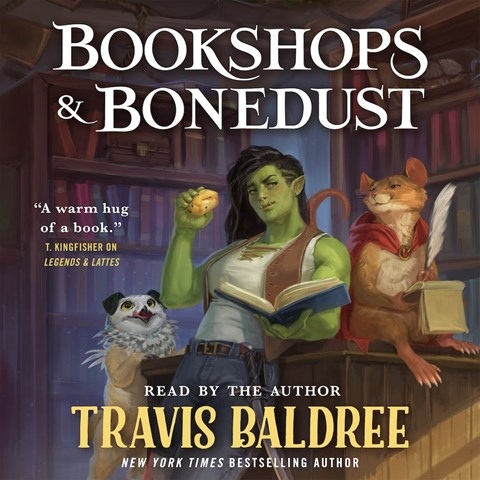 BOOKSHOPS & BONEDUST
written and read by Travis Baldree
Macmillan Audio
AudioFile Earphones Award
Viv, a mercenary orc, has been injured in a campaign against a necromancer and needs to heal. Looking for distraction, Viv hangs out in a run-down bookstore owned by a foulmouthed rattkin and discovers a love of reading, some good friends, and a little romance. Baldree introduces some delightful new characters and reprises others. He draws from a universe of gnomes, elves, skeletons, and other species and provides a perfect voice for each. Using accents, tone, and pacing, he creates a world full of interesting personalities.
Find more audiobooks narrated by Travis Baldree in his audiography.