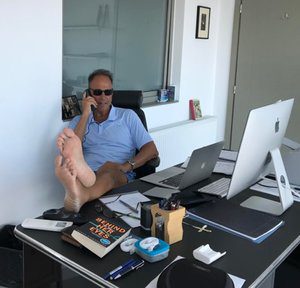 I was delighted to interview author Anthony Horowitz for the October 2018 issue of AudioFile magazine. Horowitz's second Detective Daniel Hawthorne mystery, THE SENTENCE IS DEATH, was published this summer to rave reviews.  His most recent James Bond caper, FOREVER AND A DAY, has been equally lauded. Read my interview with Horowitz below.
Some days, Anthony Horowitz feels more like a secretary than a writer, which is a tad surprising for the author of 49+ novels and many screenplays. He should be the one in charge, yet, "Often I have to write with a pen because I can't type fast enough to keep up with the speed my characters are talking. It's as if I'm sitting on the side of the room with a notebook and a pen, furiously scribbling in shorthand the words I'm hearing."
In a felicitous twist for us audiophiles, he adds, "That means my writing always begins as an audio experience."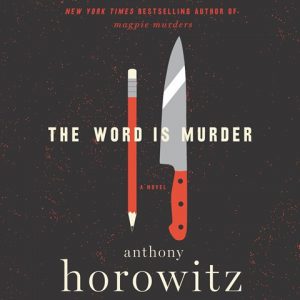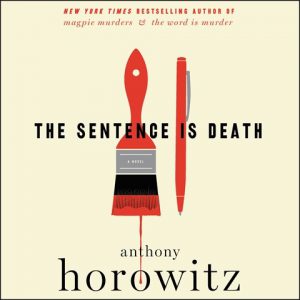 Enter THE WORD IS MURDER. In it, Horowitz has cast himself as the sidekick to an unusual private investigator named Hawthorne. Akin to Sherlock Holmes's Dr. Watson, Horowitz tags along, writing up the case as they chase a murderer. "I'm always searching to stretch the envelope in my books. I thought about the relationship between the detective, sidekick, and author and realized that I could twist it around by dropping the author into the book." Also, he has always wanted to write about writing but judged every attempt to be pompous and dull. So he put what he wanted to say about writing into the new series. "By sticking it inside a whodunit, I could do it in a humorous and lighthearted way."
When he heard Rory Kinnear read the audiobook—Horowitz always listens to the audio versions of his books—the author who is the sidekick and narrator had the out-of- body experience of hearing Kinnear "speaking with my voice since I've cast myself in the book as the narrator." Opinion? "It's absolutely wonderful. Rory Kinnear is a great actor. He made me smile all the way through. He caught Hawthorne perfectly, as well as all the other characters. His chameleon-like quality is amazing."
Ah, the skill of making something hard look easy. Horowitz, author of those umpteen books, many of them critically acclaimed as well as bestsellers, credits practice and more practice. "There isn't a day that goes by that I don't write. I do think my writing has gotten better over the years, in part because I've done so much of it. Everybody gets better at something if they keep at it. Happily, my passion for writing is the same now as when I first picked up a pen."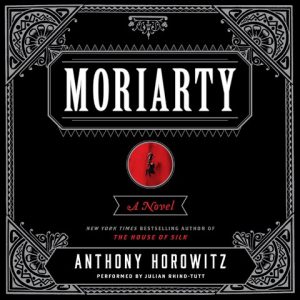 Horowitz is an intricate plotter. "I love magic and illusion. My Sherlock Holmes novel, MORIARTY, is based on a card trick. One of the things I love about writing whodunits is the opportunity to baffle people." Yet, he says, "All the clues have to be in front of the reader. I hate books that don't play fair."
His oeuvre includes Sherlock Holmes titles; the Alex Rider adventure series; The Power of Five fantasy series; stand-alone mysteries, including MAGPIE MURDERS; authorized James Bond novels; and much more.
Of all his writing, Horowitz is proudest of the Alex Rider teen spy series. "That's because it's led so many young people into the world of reading and listening to books," he says. "Alex Rider has helped introduce them to the pleasure that fiction brings. When I think about it, that's something quite good to have done with my life." He's currently at work on Rider's twelfth adventure.
And for the rest of his impatient fans, no worries. He sent the manuscript of the next Hawthorne whodunit to his publisher an hour before chatting with AudioFile.
Adapted from AudioFile Magazine's October/November 2018 issue.