Anyone who loved Percy and Monty in Mackenzi Lee's YA novel THE GENTLEMAN'S GUIDE TO VICE AND VIRTUE will want to hear THE GENTLEMAN'S GUIDE TO GETTING LUCKY, a sweet, brief novella sequel. We were lucky enough to catch Lee and narrator Christian Coulson together in New York while Coulson was recording the audiobook—watch the video to see them having a lot of fun while talking about the inspiration behind the novella and the importance of audiobooks.
"Audiobooks are what made me a reader, and what made me love books."—Author Mackenzi Lee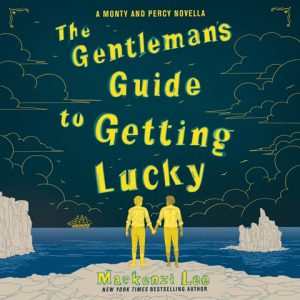 THE GENTLEMAN'S GUIDE TO GETTING LUCKY
by Mackenzi Lee, read by Christian Coulson
Harper Audio
Christian Coulson returns to narrate as Percy, Monty, Felicity, and their friends enjoy an extended idyll on Santorini, recovering from their adventures and thinking about what comes next. Coulson slips easily back into the characterizations—Felicity is smart and sharp-tongued, Monty teeters between smug charm and self-deprecation, and Percy remains patient and empathetic. Mishaps and misunderstandings ensue as Monty and Percy resolve to have sex together for the first time and ponder how a future together could work. It's a funny and tender interlude for listeners who want to spend more time with these characters.
Find more audiobooks from Mackenzi Lee and Christian Coulson in their audiographies.