Story by story, author Vanessa Riley opens up new worlds for listeners. With her degrees in engineering from Stanford and Penn State University, one might picture Riley in a lab somewhere—luckily for us, her interest in Caribbean, Georgian, and Regency history inspired her to write the historical novels ISLAND QUEEN and the recently released SISTER MOTHER WARRIOR as well as historical romances. In her novels, Riley uses a wealth of detail to tell the histories of Black women and women of color. Clothing, medicine, food, and language—no aspect of 18th- and 19th-century history escapes her notice.
Riley's audiobooks are a listening treat. Golden Voice narrator Adjoa Andoh received AudioFile's Earphones Awards for her performances of ISLAND QUEEN and SISTER MOTHER WARRIOR. In SISTER MOTHER WARRIOR, Andoh's performance is a linguistic endeavor as well as a historical one, with Caribbean and Yoruba accents as well as Creole and Fon words. Riley recently chatted with AudioFile about her writing inspirations and her audiobooks.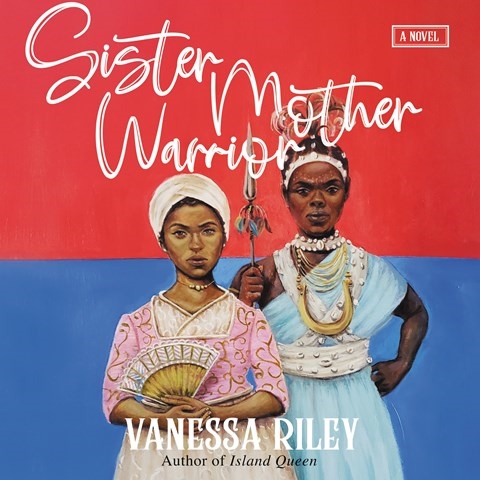 Caitlin Augusta: SISTER MOTHER WARRIOR is a triumphant novel of Abdaraya "Gran" Toya and Marie-Claire Bonheur, two women who greatly influenced the Haitian Revolution. Why did this story speak to you?
Vanessa Riley: Women were key to the success of the Haitian Revolution. When I discovered that the Dora Milaje in the movie Black Panther were modeled after a real African tribe of women warriors, I had to find out more. I discovered Abdaraya "Gran" Toya. This amazing woman was a Minos, a Dahomey warrior woman who protected the king and became enslaved. Instead of giving up, she adapts. She puts herself in a position to help the young and train them in the art of war and survival. She teaches a young man named Jean-Jacques Dessalines how to fight, plot troop movements according to the stars, and use defense tactics. This young man grows up to eventually win the war for Haiti's independence.
Marie-Claire Bonheur is another dynamic woman we've been told little about. She believed in feeding people, and she led women on a mule train into one of the most violent battles of the Haitian war. The fighting forces let her and her women through, and they bound up wounds on both sides. I firmly believe she was the first battlefield nurse, predating Mary Seacole and Florence Nightingale. Marie-Claire becomes Jean-Jacques's wife.
These are two dynamic women we just don't know enough about. I'm excited to have the privilege to write this story. We're all changed when we can learn about and honor sacrifices of the past.
CA: Both ISLAND QUEEN and SISTER MOTHER WARRIOR are narrated by the incomparable Adjoa Andoh. How do you feel the audio experience augments your historical novels?
VR: Adjoa brings these characters to life. Her theatrical performances embody the heart of the novels. I absolutely love her and the experience and grace she brought to these projects.
CA: Did your thoughts about audiobooks change after you heard your own stories narrated?
VR: I love audiobooks. The best narrators, like Adjoa Andoh and Bahni Turpin, make me forget I wrote the novels and just get lost in the stories.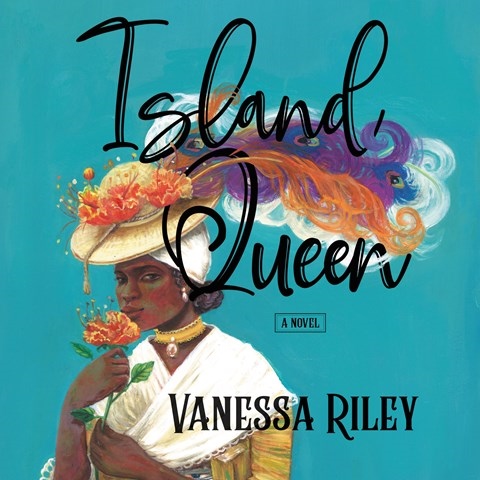 CA: Your historical novel ISLAND QUEEN has been optioned for television by Longboat Pictures with director Julie Anne Robinson ("Bridgerton") and Golden Voice narrator Adjoa Andoh as executive producer. Can you share any details or updates about that project?
VR: I'm excited to work with them. Things are progressing, and I hope we'll have some exciting news to share over the next 12 months.
CA: You recount hidden histories of Regency-era women, especially women of color. Can you share why that is so important or interesting to you?
VR: Women of color, Black women, were a part of every facet of society. The influence remains, but the names and faces have been diminished or erased. Caribbean entrepreneur Dorothy Kirwan Thomas was famous in her day. We should know her name. When all of us can see ourselves as a victor in the fabric of history, we all win. We all can dream and do the impossible. Gran Toya was in her 60s when she led troops on the battlefield. What can stop anyone from doing what they're called to do if they know they're not alone in trying and succeeding at gigantic tasks?
CA: You are a self-professed Jane Austen fan, and you both write about the Regency period. How do you approach incorporating details into your works?
VR: Austen captures the socioeconomic status of her characters. You feel it in their clothes, the mode of transport, their housing, and their language. She makes you feel that you are in the ballroom watching what is transpiring. In the same manner, I want my reader to feel the same things. I'm giving you a story about history most don't know. I want you to get fully absorbed and feel like you are there.
CA: Your stories feature women who find ways to achieve power in untenable circumstances. How do you think about those themes and incorporate them into your memorable character portraits?
VR: I'm looking for forgotten women who've done the impossible, the unthinkable, the no-way-in-the-world kinds of things. When I find them, I want to discover everything about them—the good, the bad, the funny, the ugly. I use it all to build relatable, flawed, but very human characters.
CA: Spoken stories have a power that is sometimes missing from the printed word. How do your listeners relate to your works as audio experiences?
VR: I know people who buy both the book and the audio because they love the experience of reading and being read to. That way, they can savor every moment. People are still writing or tweeting about Adjoa's performance of ISLAND QUEEN. It is exciting to hear the joy they have, loving both the words and their performance.
--
Vanessa Riley photo by Celestial Studio.