Narrator Ron Butler takes AudioFile listeners behind the scenes with his comments on recording Ben Fountain's BEAUTIFUL COUNTRY BURN AGAIN: Democracy, Rebellion, and Revolution, which asks listeners to consider whether America must reinvent itself.
"It is compelling, enthralling, maddening, and inspiring. An incredible read."—Narrator Ron Butler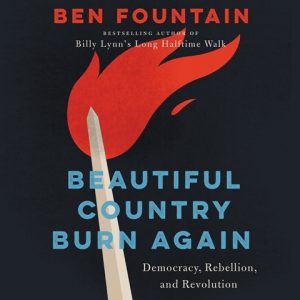 BEAUTIFUL COUNTRY BURN AGAIN
by Ben Fountain, read by Ron Butler
Harper Audio
AudioFile Earphones Award
Expanded from a series of essays Ben Fountain wrote for The Guardian on the 2016 presidential election while covering various events, BEAUTIFUL COUNTRY is unsparing and thought provoking. Ron Butler brilliantly delivers the facts and details of Fountain's candid overview with skill and precision. Listen to a sound clip and read AudioFile's full review.
Ron's audiography gives listeners a glimpse at his versatility with a range of topics. He received two recent Earphones Awards for cultural topics—PLAYING CHANGES: Jazz for the New Century and HIGH-RISERS, a history of public housing in America. We have also loved several of his children's audiobooks, including HOODOO and Kwame Alexander's REBOUND. Candace Levy featured a Q&A with Ron in her Take 5 column earlier this week, letting readers discover even more about this engaging narrator.