AudioFile goes Behind the Mic with narrator Tim Sample. Here in Maine, we know Tim for his special brand of Maine humor. If you want to see what I mean, watch what Tim has to say about Stephen King and narrating his short story, DRUNKEN FIREWORKS.
"Steve King has a fine sense of the nuance of Maine dialect, Maine language, and Maine people. Ayuh, very fine."—Narrator Tim Sample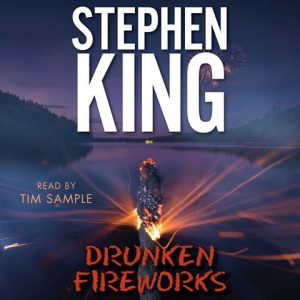 DRUNKEN FIREWORKS
Stephen King, read by Tim Sample
Simon & Schuster Audio
Combining Stephen King's masterful storytelling with humor, bizarre characters, and fireworks, narrator Tim Sample unfurls the story. Enjoy Tim's keen sense of timing and style in this great confluence of Maine storytellers. Listen to a soundclip and read AudioFile's full review HERE.
Tim Sample also narrates one of the stories in King's THE BAZAAR OF BAD DREAMS as part of a standout ensemble cast.
Explore nearly 100 audiobooks by Stephen King, including a new recording of the original novella, THE MIST.
Don't miss any of AudioFile's picks!
Sign up for our FREE e-newsletter!
SaveSave