Jonathan Yen takes AudioFile readers Behind the Mic to hear more on his narration of A MIND AT PLAY, a new biography of the father of the Information Age, Claude Shannon.
"This guy was a genius, bonafide, MIT, the whole deal, but he had this wicked sense of humor, this tremendous sense of fun."—Narrator Jonathan Yen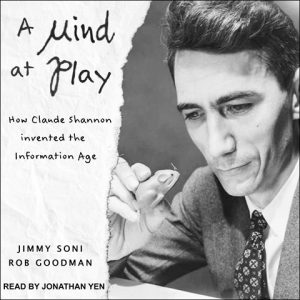 A MIND AT PLAY: How Claude Shannon Invented the Information Age
by Jimmy Soni, Rob Goodman,
read by Jonathan Yen
Tantor Media
AudioFile Earphones Award
Jonathan Yen's enthusiasm for introducing us to Claude Shannon is contagious, and listeners will find themselves happily fascinated with this biography. Claude Shannon was described by one of his colleagues as "Lewis Carroll crossed with Albert Einstein." That quip should make just about anyone curious. Unless you are very geeky, Shannon won't be a household name, but where would we be without him? Our AudioFile reviewer, Rich Stim, gave extra attention to this audiobook, so check out the full review and listen to a sound clip.