AudioFile goes Behind the Mic with Malk Williams to hear more about his narration of ARROWOOD by Mick Finlay. We hear about the memorable characters Malk takes on in Finlay's first novel about south London's anti-Sherlock.
"The characters in Arrowood were just wonderful. You could practically close your eyes and see the dirt under their fingernails—that's how good they were." —Narrator Malk Williams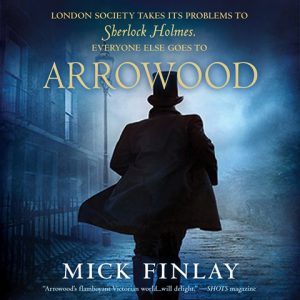 ARROWOOD: Sherlock Holmes Has Met His Match
by Mick Finlay, read by Malk Williams
Harlequin Audio/Blackstone Audio
AudioFile Earphones Award
Has Sherlock Holmes met his match? Arrowood is an ex-journalist turned private investigator working in the backwaters of Victorian London. Arrowood is an anti-Holmes who is obsessed with his competition, scorning Holmes's methods and declaring himself an "emotional agent" who relies on his gut to solve crimes.
Enjoy this twist on the Sherlock Holmes mystique, and discover narrator Malk Williams—a new narrator to American audiences. Hear a sound clip and read AudioFile's full review here.
Every Monday editor Jen Forbus posts to AudioFile's Solve channel — be sure to visit it for her great suggestions for suspense and mystery listening.