AudioFile goes Behind the Mic to talk with Susan Bennett  to hear her insights on narrating BECOMING BONNIE. On the 50th anniversary of Arthur Penn's iconic 1967 film BONNIE AND CLYDE, listeners can explore this fictional account of young Bonnie and Clyde in 1920s Texas.
"I had never given much thought to the stories of Bonnie and Clyde before they became who we now know in our American crime lore."—Narrator Susan Bennett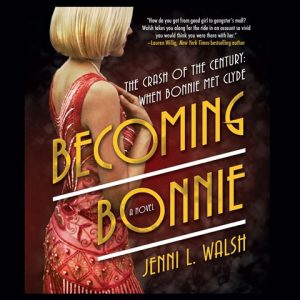 BECOMING BONNIE
by Jenni L. Walsh,
read by Susan Bennett
Earphones Award Winner
Here's a terrific match of narrator and story. Susan envelops us in 1920s Texas, with the smoke-filled speakeasies contrasting with the hardscrabble poverty. We get to know the couple before their notorious rampage. Visit our website to listen to a sound clip and read AudioFile's full review.
Explore more of Susan Bennett's audiobooks from her audiography list.