AudioFile goes Behind the Mic to talk with Christian Baskous about his narration of Richard Ford's narrative memoir, BETWEEN THEM. Chris tells us about his unique preparations for recording the audiobook.
 "Ford bears witness to his parents' lives . . . their son is a master writer with formidable craft who has preserved their memory."—Narrator Chris Baskous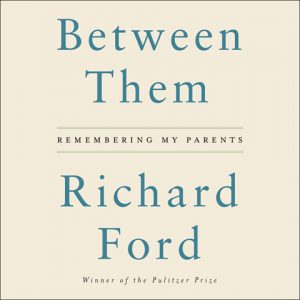 BETWEEN THEM: Remembering My Parents
by Richard Ford
read by Christian Baskous
Harper Audio
AudioFile Earphones Award
Pulitzer Prize-winning novelist Richard Ford's remembrance of growing up in the 1950s is insightful, enlightening, and emotionally evocative. The memoir offers some insight into the origins of Ford's storytelling and of Frank Bascombe, protagonist of Ford's celebrated THE SPORTSWRITER, INDEPENDENCE DAY, THE LAY OF THE LAND, and LET ME BE FRANK WITH YOU.
Listen to a sound clip and read AudioFile's full review of BETWEEN THEM here.
Discover more audiobooks by Richard Ford, or you might enjoy AudioFile's interview, "Talking with Richard Ford." Find more narrations by Christian Baskous here.