AudioFile goes Behind the Mic with Golden Voice narrator Scott Brick to hear his excitement for recording  DRAGON TEETH, by Michael Crichton. Scott knows Crichton's dinosaur territory from his recordings of JURASSIC PARK and THE LOST WORLD. The setting of the Wild West and the golden age of fossil hunting adds to the fun.
"It's a rollicking good time, and I think in many ways it's the book he always wanted to write."—Narrator Scott Brick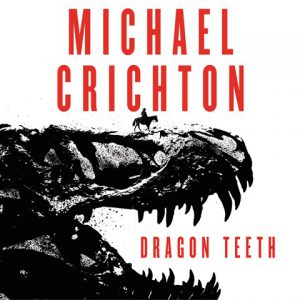 DRAGON TEETH
by Michael Crichton, read by Scott Brick
Harper Audio
The dawn of paleontology and rival scientists set a great stage for Crichton's adventure. The book was recently discovered in the estate of this blockbuster author, and with Scott Brick at the helm of the audiobook, listeners get an exciting ride. There's plenty to learn from Crichton's meticulous research, and Scott's narration clearly shows why he's a narrator at the top of his game. Listen to a sound clip, and read AudioFile's full review here.
Explore more of Scott Brick's audiobooks in his colossal audiography!