Go with us Behind the Mic to speak with Australian narrator Stephen Shanahan. Stephen is the voice behind FORCE OF NATURE, Jane Harper's intense mystery audiobook. Stephen's Australian accent brings listeners right into the Australian bush, where five women enter the wilderness in a corporate retreat . . . and only four return.
"One of the key characters in Jane's novel is the Australian landscape, which in this case is dense bushland, the kind of country which is famous for inexperienced hikers becoming hopelessly lost."—Narrator Stephen Shanahan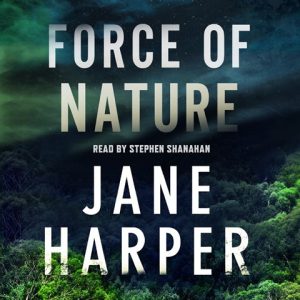 FORCE OF NATURE
by Jane Harper
read by Stephen Shanahan
Macmillan Audio
AudioFile Earphones Award
Jane Harper and Stephen Shanahan hit our radar early last year with the release of THE DRY. Jane's debut novel introduced many listeners to "Australian noir" and picked up a trail of international awards, and it was one of AudioFile's 2017 Best Audiobooks. Here, they're at it again.  Stephen creates the backstory for each of the female participants and makes each one an individual. This is listening not to miss, and we hope to hear Stephen on more audiobooks!