Join AudioFile Behind the Mic with narrator Kim Mai Guest — she talks about the fascinating characters she got to portray in FOREST OF A THOUSAND LANTERNS, an Earphones Award-winning young adult novel from Julie C. Dao.
"You travel across this magical, mythical land with these amazing characters . . . evil demons, beautiful women, thoughtful interesting emperors."—Narrator Kim Mai Guest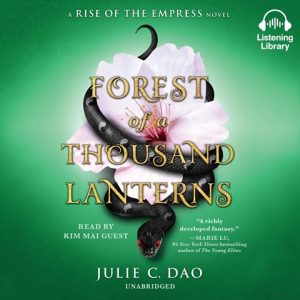 FOREST OF A THOUSAND LANTERNS: Rise of the Empress, Book 1
by Julie C. Dao
read by Kim Mai Guest
Listening Library
AudioFile Earphones Award
Take a good look at this glorious cover as you listen to Kim Mai Guest's powerful performance. Follow Xifeng, a young peasant girl on her quest to become empress. Filled with fascinating characters, this fantasy will carry you away. Read AudioFile's full review and listen to a sound clip.
Explore more of Kim Mai's audiobooks — she has recorded many children's and young adult titles. And don't miss her celebrated  performance of Grace Lin's WHEN THE SEA TURNED TO SILVER.