Join AudioFile as we go Behind the Mic with Rebecca Soler to hear about her narration of the suspenseful, gripping GENUINE FRAUD from E. Lockhart. She shares a tip for listeners, too — the chapters are in reverse chronological order, so the twists and turns are all the more unexpected.
"You guys, this is so good. Once again she has created a plot with so many twists and turns and really powerful, dynamic female characters."—Narrator Rebeccca Soler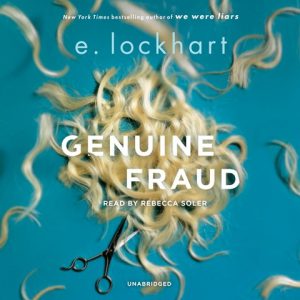 GENUINE FRAUD
by E. Lockhart, read by Rebecca Soler
Listening Library
AudioFile Earphones Award
E. Lockhart continues to prove herself the queen of twists. As the audiobook's structure moves backwards in time, Rebecca's narration keeps us poised for the next revelation as the fast-paced reversed plot reveals more and more of the precipitating events and an increasingly darker picture of Jule's nature. Hear a sound clip and read AudioFile's full review here.
Explore more young adult and children's audiobooks performed by Rebecca Soler including titles by Marissa Meyer, Kristin Cashore, and Pam Muñoz Ryan.