When we go Behind the Mic with a narrator, we always learn something. Today with Mark Bramhall, we get some perspective on his epic narration of GRANT, Ron Chernow's biography of Ulysses S. Grant.
"To know . . . the story of the Civil War and Reconstruction is to arm yourself with something I think is quite necessary these days. Turned out to be a good thing—a book that not only intrigues, but matters."—Narrator Mark Bramhall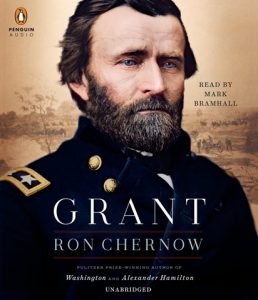 GRANT
by Ron Chernow, read by Mark Bramhall
Penguin Audio/Books On Tape
The facts: Grant was a prominent Civil War general and the 18th U.S. President. Myths and misconceptions:
Grant was a drunk, and an inept president. Chernow's new biography has a lot to say about both, exploring Grant's life and career and dispelling many of those misconceptions. Listeners will be engaged to hear this portrait through the capable voice of narrator Mark Bramhall. He keeps us focused for the many hours, with just the right variation and narrative flow.
Mark has narrated several biographies and memoirs that may be of interest, such as THE GREAT LEADER AND THE FIGHTER PILOT, or this memoir from Shimon Perez, NO ROOM FOR SMALL DREAMS. Explore Mark Bramhall's full audiography.
And if life stories are your listening passion, check out AudioFile's recent reviews of Biography & Memoir audiobooks.