AudioFile Magazine goes Behind the Mic with Dan Bittner to hear about his narration of HONESTLY BEN, an Earphones Award winner. Bill Konigsberg's novel is a complex portrait of Ben, a scholarship student and baseball team captain at an elite East-coast boarding school. Ben is confused about his sexuality, namely his feelings for his ex-best friend, Rafe, and a cute girl at the neighboring school. Rafe and Ben briefly became more than just friends in the first novel in the series, OPENLY STRAIGHT, which was told from Rafe's point of view.
"Growing up is messy and it's complicated, and Bill nails it in his writing"—Narrator Dan Bittner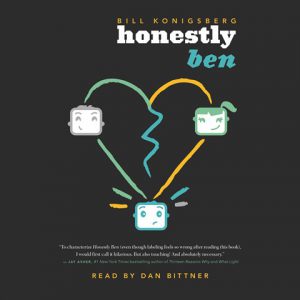 HONESTLY BEN: Openly Straight, Book 2
by Bill Konigsberg, read by Dan Bittner
Scholastic Audiobooks
AudioFile Earphones Award
HONESTLY BEN and OPENLY STRAIGHT are both about growing up and developing a sense of identity in the petri dish that is high school. Dan thoughtfully portrays Ben in all of his complicated emotions and sensitivities, along with the other jocks and wealthy classmates surrounding him at his high school. This novel will engage teen and adult listeners alike for its humor and its empathetic portrayal of learning about who you are.
Find more audiobooks narrated by Dan on our website!
Photo of Dan Bittner by Alden Ford.