AudioFile goes Behind the Mic to hear from Thérèse Plummer on her narration of PERFECT LITTLE WORLD by Kevin Wilson, an AudioFile Earphones Award winner. We're introduced to this offbeat audiobook about a pregnant high school graduate invited to join a collective child-rearing social experiment called The Infinite Family Project.
"Izzy Poole, 18 years old, a child raising a child in a social experiment just blew my mind."—Narrator Thérèse Plummer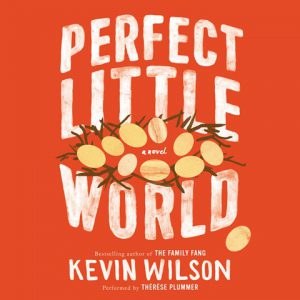 PERFECT LITTLE WORLD
by Kevin Wilson,
read by Thérèse Plummer
Harper Audio
AudioFile Earphones Award
Listeners get a chance to consider what it means to be a family through a large cast of characters. Thérèse allows us to dive into this strange, experimental world and witness as the cracks in the collective family begin to form and threaten the "perfect little world." Thérèse's intimate narration invites listeners to reflect on the poignant imperfections inherent in families of all kinds.
For more great audiobooks narrated by the talented Thérèse Plummer visit her audiography, including Wilson's THE FAMILY FANG!