Narrator Ramon de Ocampo tells AudioFile's listeners about recording Anne Sibley O'Brien's inspiring children's audiobook, I'M NEW HERE. Part of an ensemble cast of voices, Ramon encourages us to explore this read-along and learn about welcoming immigrants and refugees.
"We've all been there—we've all been the new kid at school. And we probably will be again." —Narrator Ramon de Ocampo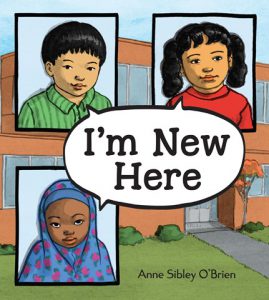 I'M NEW HERE
by Anne Sibley O'Brien, read by Frankie Corzo, Ariana Delawari, Ramon de Ocampo, Ruth Livier, Anne Sibley O'Brien
Live Oak Media
The voices who introduce us to Fatima, Maria, and Jin remind us how it feels to be the new kid. This read-along might help your children, or the children in your life, understand and reflect on what it means to be new to a country and to leave everything you knew behind. Listen to a sound clip and read AudioFile's full review here.
Explore AudioFile's short recommended audiobooks list to give children windows into the lives of others and to help them see their own experiences reflected back to them here.
Find more great audiobooks here across many subjects and topics at Audiobooks for Kids & Teens. AudioFile's dynamic lists come complete with age ranges.