AudioFile Magazine goes Behind the Mic with Brian Nishii to hear more about his narration of THE GREAT PASSAGE  by Shion Miura. Brian gives a delightful entrée to listeners to delve into this Japanese story of the creation of a dictionary.  Did you ever stop to think about what goes into the making of a dictionary?
"How do you decide what words make it into the dictionary and what words don't? What words are relevant? What words are changing?"—Narrator Brian Nishii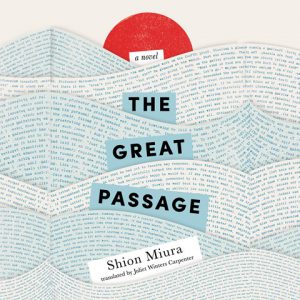 THE GREAT PASSAGE
by Shion Miura, Juliet Winters Carpenter [Trans.],
read by Brian Nishii
Brilliance Audio
AudioFile Earphones Award
Brian was born and raised in Tokyo and grew up in a fully bilingual environment. He's a perfect choice for this audiobook as his facility with Japanese names and words keeps listeners from getting hung up on unfamiliar phrases or word choices. We can really get the Japanese spirit of the work and of the Japanese business environment. Come on, word-lovers, this one's for you! Listen to a sound clip, and read AudioFile's full review here.
THE GREAT PASSAGE garners Brian's first Earphones Award, but listeners can explore Brian's other audiobooks, including a YA title that chronicles samurai warrior Minamoto Yoshitsune in SAMURAI RISING.