Narrator Karen White takes AudioFile listeners Behind the Mic to share her thoughts on the narration of THE LAST BALLAD. This Earphones Award winner by Wiley Cash revolves around Ella Mae Wiggins, a forgotten heroine of history.
"The story resonates so deeply with all the social justice issues that we are still wrangling with today." —Narrator Karen White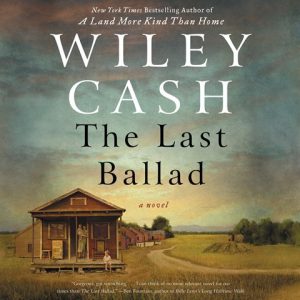 THE LAST BALLAD
by Wiley Cash
read by Karen White and Elizabeth Wiley
Harper Audio
AudioFile Earphones Award
Karen narrates the bulk of the story, set in the Appalachian foothills of North Carolina in 1929. Deplorable conditions at the textile mill where Ella Mae works leads her to become a union organizer, but listeners also hear from the mill owners and fellow workers. Co-narrator Elizabeth Wiley gives the historical perspective from Ella Mae's descendants.  Listen to a sound clip and read AudioFile's full review here.
Ella Mae's "ballad" was "The Mill Mother's Lament," recorded by the legendary Pete Seeger.
Explore more with Karen White profile and discover her audio accomplishments.  And see Elizabeth Wiley's audiography.