AudioFile is Behind the Mic again with narrator R.C. Bray as he gives us some motivation to listen to  THE REASON YOU'RE ALIVE  by Matthew Quick. Think Jack Nicholson in "As Good As it Gets" . . . what does he mean? That's worth checking out!
 "It's hysterical, honest, blunt, heart-wrenching, endearing . . . a roller coaster ride of all the emotions."—Narrator R.C. Bray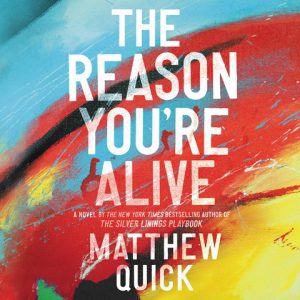 THE REASON YOU'RE ALIVE
by Matthew Quick
read by R.C. Bray
Harper Audio/Blackstone Audio
AudioFile Earphones Award
Narrator R.C. Bray brings us David Granger, a Vietnam combat veteran coping with past and present demons. Granger isn't subtle; he's direct, brash, and opinionated. Bray understands this character, and his performance is simply remarkable. Listen to a sound clip and read AudioFile's full review here.
For more audiobooks by R.C. Bray, check out his celebrated performance of THE MARTIAN or find great fantasy & sci-fi titles in his complete audiography.