For anyone who loves a historical setting or is infatuated with Italy, listen to how narrator Cassandra Campbell describes THE SCRIBE OF SIENA by Melodie Winawer. Once more we're Behind the Mic to hear the narrator point of view about a recent performance. Cassandra easily convinced me with her lovely Italian accent that this audiobook will be a vacation delight—and that's right where I'm taking it!
"We are transported back to medieval Siena in a vivid way . . . the darkness, the tight, narrow streets . . . and wonderful Italian romance."—Narrator Cassandra Campbell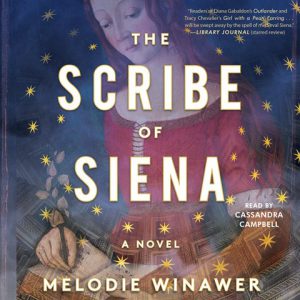 THE SCRIBE OF SIENA
by Melodie Winawer
read by Cassandra Campbell
Simon & Schuster Audio
Winner of AudioFile's Earphones Award
Neurosurgeon Beatrice Trovato is transported from the present back to the Middle Ages. Atmosphere and romance emerge though this time-travel story. Cassandra Campbell vividly immerses us in medieval life and love. Hear a sound clip and read AudioFile's full review here.
Read our profile and interview with Cassandra on our website, and explore more of her audiobooks here!