AudioFile goes Behind the Mic with Rob Shapiro to hear about narrating THE WORLD REMADE and the lessons he took away from this powerful history of World War I written by G.J. Meyer.
"No stress test was greater than World War I, and we survived it as a world. Goodness still survived."—Narrator Rob Shapiro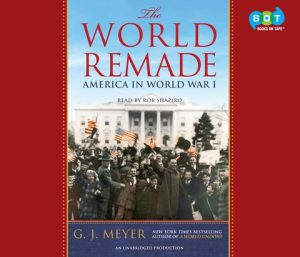 THE WORLD REMADE: America in World War I
by G.J. Meyer, read by Rob Shapiro
Random House Audio/Books on Tape
AudioFile Earphones Award
Exploring America's role in World War I reveals many parallels with today's current events.  Rob's engagement with the subject is palpable as he reads Meyer's novelistic account of America's involvement in WWI and the fear and ego that led so many nations to tragedy. Meyer's writing shows a great feel for plot and character study and provides thought-provoking points of view and insights into this turbulent time in the history of the world. Visit our website to read the full review and listen to Rob's sound clip of this Earphones Award winner.