Narrator Kate Rudd takes AudioFile listeners Behind the Mic for one of the most anticipated young adult novel this year—John Green's TURTLES ALL THE WAY DOWN. Kate's expressive performance put TURTLES on our 2017 Best of the Year list.
"Throughout the story you see a really honest look at what it might feel like to be a teenager navigating mental illness. I wish this book had been around for me when I was a young person."—Narrator Kate Rudd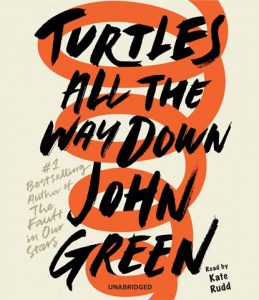 TURTLES ALL THE WAY DOWN
by John Green, read by Kate Rudd
Listening Library
AudioFile Earphones Award
Kate Rudd dramatizes the quick intelligence and high anxiety of high school junior Aza Holmes, giving a convincing portrait. Listen to a sound clip and read AudioFile's full review here.
Kate knows her John-Green territory as she is also the narrator of THE FAULT IN OUR STARS, a winner of multiple audiobook awards. Kate expresses her passion for audiobooks in a recent AudioFile profile, and listeners can browse her whole audiography.
Find more great audiobooks on our 2017 Best Audiobooks list!