Listen in as narrator James Anderson Foster shares what he loves about Joi Ito and Jeff Howe's WHIPLASH: How to Survive Our Faster Future in this Behind the Mic video. James's enthusiasm and sensitivity to every nuance of this audiobook make it a compelling listen and an Earphones Award winner.
"It was brilliant. It's dense material, but it's presented in a way that's accessible, and it's all built around this notion of emergence."—Narrator James Anderson Foster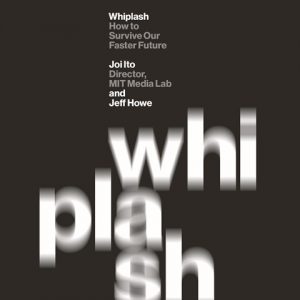 WHIPLASH: How to Survive Our Faster Future
by Joi Ito, Jeff Howe
read by James Anderson Foster
Brilliance Audio
AudioFile Earphones Award
A faster future, indeed! Two prodigious thinkers— MIT Media Lab director Ito and Wired writer Howe—explain how the technology and communication revolutions have upended the way we seek progress in almost every area of life. Cory Doctorow writes about the book,  "We live in precarious, fraught and pregnant times. The future is impossible to guess at, our soundest institutions are proving to be brittle, our disorganized rabble are turning out to be powerful political forces." If this still seems dense, here's author Joi Ito giving a presentation at the Media Lab.
Listen to a sound clip from WHIPLASH and read AudioFile's full review. Then settle in for some fascinating listening.