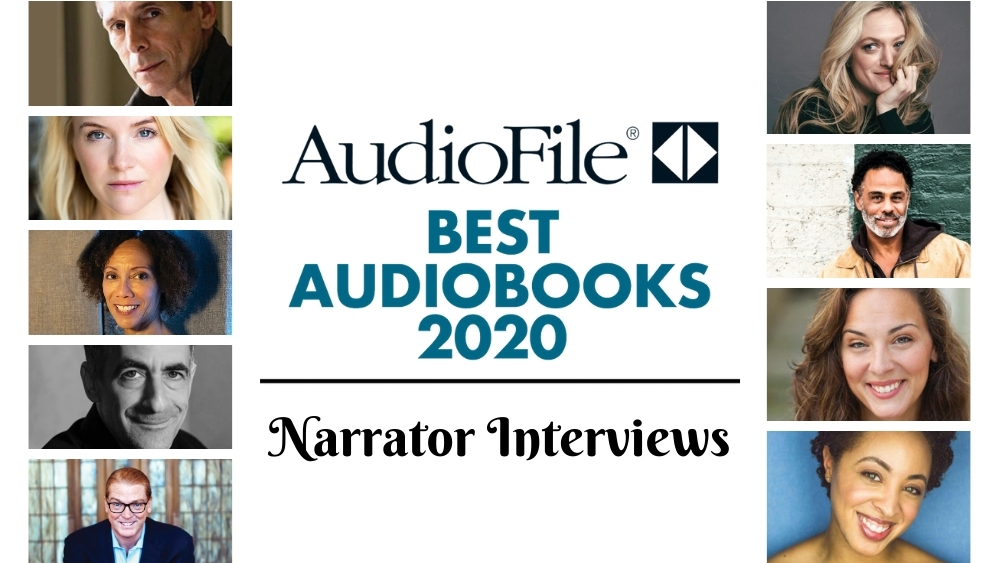 AudioFile's editors were thrilled to celebrate the 2020 Best Audiobooks this December. Special highlights were the interviews spotlighting narrators whose work earned them a spot on the Best Audiobooks list, all featured on our Behind the Mic podcast. In case you missed them, here are conversations with nine narrators of some of the year's best audiobooks.
Starting us off with a National Book Award finalist, Marin Ireland spoke with Michele Cobb about LEAVE THE WORLD BEHIND, Rumaan Alam's fascinating fiction audiobook that explored race, class, family, and global catastrophe. Listen to hear Marin's thoughts on narrating this eerie and engaging audiobook.
Next, David Pittu and Michele discussed THE LAST TOURIST, Olen Steinhauer's CIA thriller which was one of the Best Mystery Audiobooks this year. David tells Michele about narrating an unsettling, immersive audiobook, and his work on the Milo Weaver series.
T. Ryder Smith joined Robin Whitten to talk about narrating FIRE IN PARADISE, one of the year's Best Nonfiction & Culture audiobooks. Alastair Gee and Dani Anguiano's study of the devastating 2018 Northern California fire was full of fire science and California history. T. Ryder talks about the challenges of balancing narrating the complex science while also voicing the dramatic personal portraits of California residents.
Marisa Blake spoke with Robin about one of the year's best audiobooks for young adults, WE ARE NOT FROM HERE by Jenny Torres Sanchez. She and Robin discussed the challenging and powerful audiobook that tells the story of three teenagers escaping a gang leader in Guatemala, and how they make their way to America.
Narrator Sean Pratt spoke with Michele about one of the year's best History & Biography audiobooks, HIDDEN VALLEY ROAD. Robert Kolker's empathetic audiobook explores the toll that mental disease takes on a family, and Sean talks about narrating enthralling nonfiction audiobooks and establishing emotional connections with all of the family members in the story.
It was a standout year for children's literature, and Shanya Small spoke with Robin about one of this year's best audiobooks for children and family listening, OVERGROUND RAILROAD. Lesa Cline-Ransome's historical audiobook tells young listeners a story of a family traveling from the south to the north, seeking opportunities and a better life, but leaving loved ones behind. Shayna shares why she finds narrating audiobooks for children to be so important.
Billie Fulford-Brown joined Michele to talk about HEADLINERS, Lucy Parker's delightful enemies-to-lovers audiobook. HEADLINERS earned a spot on AudioFile's Best Romance Audiobooks list thanks to Billie's exquisite performance and the excellence of this 5th book in the London Celebrities series. Hear from Billie about what she loves about narrating romances, and Lucy Parker's in particular.
In their conversation, Adam Lazarre-White and Robin discussed his narration of A MOST BEAUTIFUL THING, Arshay Cooper's memoir—but they have a wide-ranging conversation that isn't to be missed. Listen to hear Adam talk about prepping for this memoir about America's first all-Black high school rowing team, the biggest challenges in recording the audiobook, and his thoughts on crafting memorable nonfiction audiobooks.
Lastly, Robin Miles and Michele talked about one of the year's best Sci-Fi, Fantasy & Horror audiobooks, THE CITY WE BECAME. N.K. Jemisin and Robin Miles have collaborated on other award-winning audiobooks, and here, Robin talks about a remarkable and fantastical celebration of New York City's spirit. Robin tells Michele about special preparations she took to make the many voices of New York City come to life.
—
It was an incredible year for audiobooks, and we are grateful to all of the narrators who dedicate themselves to bringing stories alive for listeners.
Photo of David Pittu by Scott Sherratt, photo of Shayna Small by Anthony Chatmon, photo of Billie Fulford-Brown by Ori Jones, photo of Robin Miles by Ty Frieberg. Other photos courtesy of the narrators.