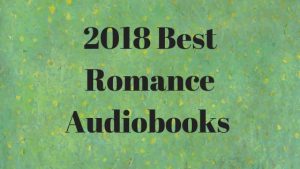 AudioFile is excited to share the Best Romance Audiobooks of 2018! Explore the list below, and watch our video with Saskia Maarleveld video on narrating IT HAPPENED IN THE HIGHLANDS, which will make you even more excited to dive into this mysterious historical romance. Narrator Brittany Pressley also joined us for an interview on AudioFile's Behind the Mic podcast — she earned a spot on the list for her narration of THE SOMETIMES SISTERS by Carolyn Brown. Listen to the episodes below for insights into why we chose these to be the best of the year.
AudioFile's Best Romance Audiobooks of 2018
AS YOU WISH by Jude Deveraux, read by Susan Bennett, published by Recorded Books
A romance that speaks to various life experiences with humor and longing to go back in time and have another chance at love
BESOTTED WITH THE VISCOUNT by Susanna Malcolm, read by Nicholas Boulton, published by Hedgehog Inc. Productions
Lord Gideon Birch, a wounded naval captain, has just moved to the small village of Littleover, where he has fallen hard for the impoverished Theadosia Ridley in this lush listening experience.
IT HAPPENED IN THE HIGHLANDS by May McGoldrick, read by Saskia Maarleveld, published by Macmillan Audio
Captain Wynne Melfort has a chance right a wrong — and find love again — when he learns of his former fiancée Lady Josephine Pennington's parentage.
THE KISS QUOTIENT by Helen Hoang, read by Carly Robins, published by Dreamscape
A mathematician with Asperger's hires a male escort to teach her to navigate the world of romance, and they both get more than they bargain for.
THE SOMETIMES SISTERS by Carolyn Brown, read by Brittany Pressley, published by Brilliance Audio
A bittersweet inheritance reunites three sisters in this heartfelt family story of friendship — and long-held secrets are revealed.
Listen in on our podcast episode discussion of our best Romance Audiobooks right here — and while you're at it, subscribe to the podcast!
And look no further for more insights into Brittany Pressley's winning recording of THE SOMETIMES SISTERS. Brittany's charm and care with narrating Carolyn Brown's work are apparent in her work, and in this interview, where we learn what helped her connect so well with this audiobook.
Check out AudioFile Magazine's Behind the Mic podcast for more great audiobooks to listen to and love, and explore AudioFile's full list of 2018 Best Audiobooks in our media-rich E-zine.