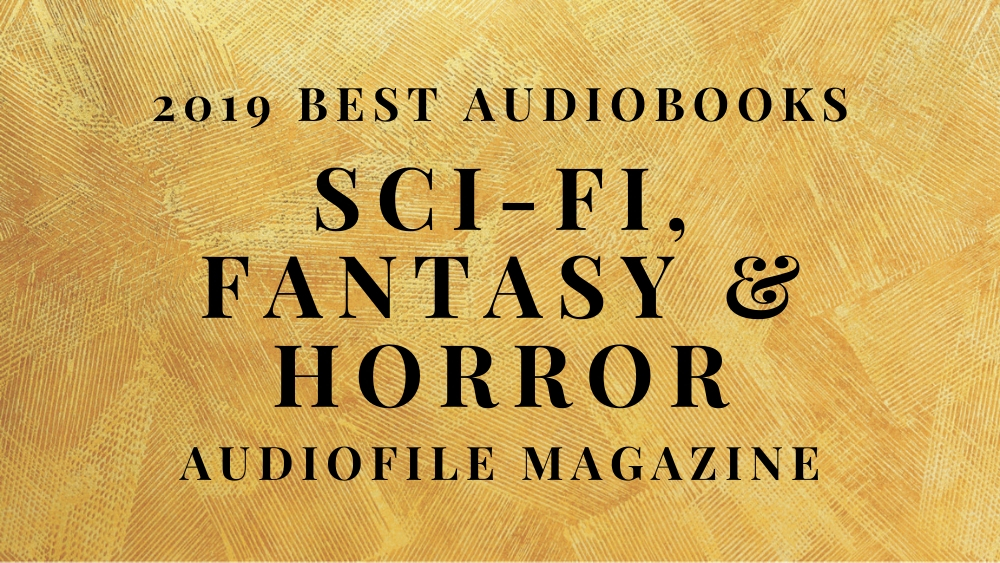 It's a special pleasure to share AudioFile's list of the best science fiction, fantasy, and horror audiobooks of 2019. Wildly different from each other — the list includes magical storybooks and possessed trucks — they all take listeners on unique and fantastic voyages ("Fantastic voyages" being my homage to the first sci-fi movie I ever saw, that iconic 1966 film that featured miniaturized scientists battling white blood cells from inside a body).
The character of Tracker in Booker Prize-winning author Marlon James's BLACK LEOPARD, RED WOLF doesn't need tiny retro scientists coursing through his system. Using his formidable sense of smell and other powers, the mercenary searches through an African-inspired landscape for a special child. Just in time, he begins to wonder who the child really is. Dion Graham's Earphones Award-winning performance is majestic and commanding, as befits this involving first novel in a planned trilogy. Hear from Dion himself in his narrator video on this fantasy winner.
Brandon Sanderson's fantasy novella EDGEDANCER expands on Lift, one of the most intriguing characters in his best-selling Stormlight Archive series. In this story, Lift leaves her safe haven for the land of Yeddaw where the downtrodden await a new leader. The full cast, lead by Terence Aselford, creates such a fully immersive experience that our reviewer told listeners to "hang onto their earbuds."
Tamsyn Muir's witty fantasy GIDEON THE NINTH gives narrator Moira Quirk the chance to voice such choice lines as "Gideon sat at a sagging desk piled high with pages covered in necromantic marginalia." Snarky, sword-wielding Gideon is indentured to the haughty necromancer Harrowhark, with whom she spars while dodging danger and exploring supernatural mysteries. Quirk leaps into the funny and fantastical world with a myriad of character voices and an abundance of tongue-in-cheek delight.  
Ann Leckie, who has won the Hugo, Nebula, and Arthur C. Clarke Awards for her science fiction, has created an amazing tale in her first fantasy novel, THE RAVEN TOWER. Adjoa Andoh's performance is warm and seductive, luring listeners into the otherworldly story about Eolo, who must find out why a usurper has assumed the throne of Vastai before gods and humans together destroy the world. We talk to narrators Moira Quirk and Adjoa Andoh on our special podcast episodes for the 2019 Best Audiobooks—listen in.
Alix E. Harrow's THE TEN THOUSAND DOORS OF JANUARY is a love letter to old-fashioned storytelling that makes you long for the story to last forever. Intensely read by January LaVoy, it takes us back to 1901, when seven-year-old January (yes, both narrator and protagonist are named January!) discovers a book that tells of Doors between worlds. January herself once saw such a Door.  So, when her father disappears, January risks all to follow book and discover her father's fate. 
Finally, from fantasy to terror in Joe Hill's FULL THROTTLE, performed by a band of fine narrators:  Zachary Quinto, Wil Wheaton, Kate Mulgrew, Neil Gaiman, Ashleigh Cummings, Joe Hill, Laysla De Oliveira, Nate Corddry, Connor Jessup, Stephen Lang, and George Guidall. Two of the stories were written with Hill's dad, Stephen King. All are shivery marvels delivered with enthusiasm. Be it a librarian who delivers fresh reads to the dead or a faceless trucker dueling with motorcycle outlaws, there's something here to frighten everyone on your holiday list.