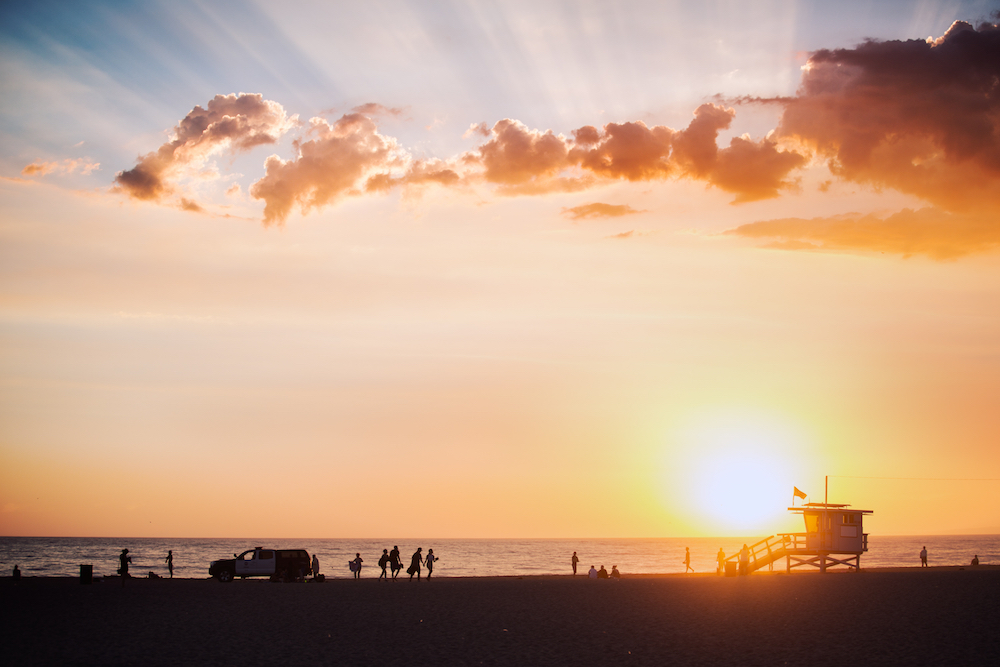 Summer provides the perfect opportunity for more relaxed listening, so why not do the equivalent of binge-watching and engage in some binge-listening?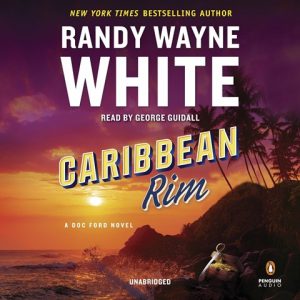 Having tapped into Randy Wayne White's Doc Ford series for my recent post about Golden Voice narrator George Guidall, I decided to start my binge listening there. First, I listened to Book 25 in the series, CARIBBEAN RIM. Then I went back to listen to SANIBEL FLATS ( Book 1), performed by another award-winning narrator, Dick Hill, who does an excellent job. Other narrators have stepped in over the life of the series. Guidall, however, having performed the last dozen or so audiobooks in the series, has cemented his reign over the Doc Ford universe. The books are inhabited by strong, quirky, interesting characters, and the storylines are fast-paced and always instructive about fish, the sea, and Florida. I have only just started the series, but in between other listens, I am looking forward to returning to Sanibel Island to visit with Doc Ford and his hippie stoner (but super smart) friend Tomlinson.
While listeners do get to experience the characters growing and developing during the series, you will not be at a disadvantage if you listen out of order.  Author White puts in enough back story to keep listeners on track. The same thing is true of the other series mentioned below.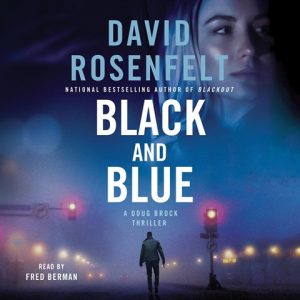 For those daunted by taking on a well-established series with a long backlist of audiobooks, you might try BLACK AND BLUE, the third audiobook in David Rosenfelt's Doug Brock police procedural series. Fred Berman returns to voice the New Jersey state trooper, who suffers from amnesia resulting from a gun injury, providing interesting challenges for him in his personal and professional life. Fans of Rosenfelt's Andy Carpenter series are treated to a cameo by the reluctant lawyer. Makes sense—they all live in New Jersey.
For a fun, light listen, I always turn to Janet Evanovich. Since the next installment in the Stephanie Plum series won't be released until November, I listened to her sixth book in the Fox and O'Hare series, THE BIG KAHUNA, read by Scott Brick. Listeners can go along for another audio roller-coaster ride, this time to Maui. Brick is the perfect narrator for the sarcastic, devilishly charming Nick Fox and the hard-driving FBI agent Kate O'Hare.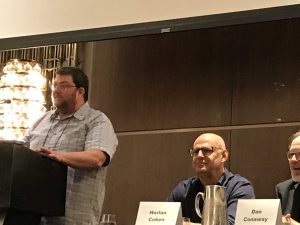 At Thrillerfest, I had the opportunity to meet Harlan Coben, the creator of the Myron Bolitar series. Speaking on a panel, Coben shared the challenges of keeping a series fresh and managing the personal and romantic life of aging protagonists. The 11th book in the series, HOME, is performed by actor Steven Weber, who brings Bolitar and his regular crew to life.
Finally, I just started to listen to the latest release in Daniel Silva's Gabriel Allon series, THE NEW GIRL (Book 19), once again performed by George Guidall. (George keeps himself very busy!) As anticipated, it's gripping, and I am just into the first couple of chapters. Look for my review shortly. And note—the entire series is definitely binge-worthy! Perfect listening for long summer days and nights.