Just ahead of the new SYNC season delivering free audiobooks to teens around the world, OverDrive and AudioFile co-hosted a webinar filled with tips about the Sora app and ideas from those attending the webinar about how they promote the program locally. You can review the webinar recording here. You can also find it in SYNC's toolkit throughout the SYNC season.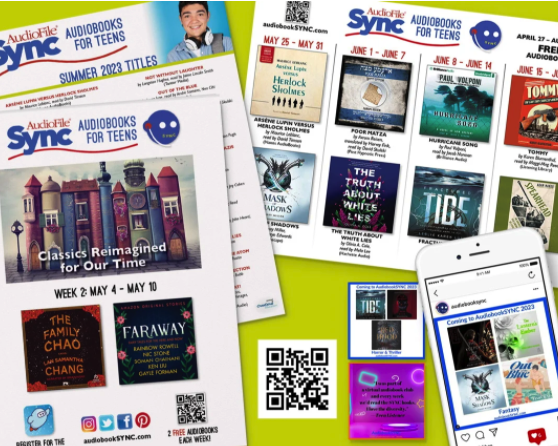 And the season opens this week, on Thursday, April 27, at midnight Eastern Time! Have you signed up for text and/or email alerts? Marked your calendar for the weeks you want to be sure to participate so you can collect your most anticipated free audiobooks? Helped someone else sign up for the program? Take a look at SYNC's newly refreshed website, where you can find information about the full roster of titles coming this season, promotional assets like posters, videos from narrators about the titles they performed, and the all-important FAQ for anyone who likes to be sure they have it just right.
Among the many promotional ideas webinar participants reported using successfully in past years, we think many of you will want to consider how you, too, can:
Present to English classes about the Audiobook SYNC program

Promote SYNC with

Sora Sweet Reads

and try to get students signed up for both before they leave for the summer

Post the list of titles on the library's

Google Classroom

and then post weekly updates there

Present SYNC to the school's English Language Arts teachers so they can use information about the season in their classrooms

Train all the middle school's rising eighth graders on how to use Sora

Hold an in-person SYNC audiobook club in partnership with the public library during the summer months and invite all the high schools in the district to participate

Announce at the end-of-year student sendoff that if students can show they have added the Audiobook SYNC library on their Sora app during the summer, they are entered to win a prize when school resumes in the fall

One of the questions we fielded during the webinar concerns how American librarians and teachers can respond to community members who may not be as enthusiastic about our title choices as many of us are. We want to recognize up front that books and access to a wide range of ideas, stories, and voices are currently embattled in some communities at this time. To that end we invite all of you involved in SYNC—and in reaching teens with access to information, wide-ranging viewpoints, and diverse voices—to join us in today's National Day of Action to Promote the Freedom to Read.
See you Thursday! It's no coincidence that our premier week's theme is freedom of expression!