June is Audiobook Month, and this year we welcome three new Golden Voices—Cassandra Campbell, Michael Crouch, and Soneela Nankani. Perhaps they need no introduction and you have been enjoying their performances for years. But if they are new to you, many hours of wonderful listening are ahead. Please explore the audiobooks we've noted below as "essential listening" for each narrator to experience the range and excellence of their audiobook work.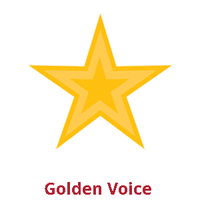 Throughout this month, we focus on the very special group of 41 narrators that we honor as Golden Voices, the highest award of excellence. AudioFile's podcast and social media are abuzz with shout-outs to these narrators. On the "Behind the Mic" podcast, we have in-depth interviews with Michael, Soneela, and Cassandra coming later this month. And for each day in June, AudioFile's Twitter fetes one of the Golden Voice narrators, highlighting their recent audiobook titles.
Get to know 2021's new class of Golden Voice narrators, or just check in with everyone in the celebrated group via AudioFile's website. Many thanks to all of the Golden Voice narrators for the extraordinary listening experiences you have given us.
We've put together suggestions for essential listening for each of the 2021 Golden Voice narrators.
As the narrator of WHERE THE CRAWDADS SING, Cassandra has had the ear of thousands of listeners who have enjoyed this long-standing bestseller. Narrating since 2003, Cassandra has performed hundreds of audiobooks as a single voice and in ensemble performances with multiple narrators. The recent Earphones Award-winner, BENEFICENCE by Meredith Hall, shows off Cassandra's keen understanding of character and tone. We often admire her skill with historical fiction' whether the setting is Italy, New York City, or Los Alamos. Cassandra brings forth just the right energy and tone.
Essential listening from Cassandra Campbell
UNIVERSE OF TWO by Stephen P. Kiernan
DEAR EDWARD by Ann Napolitano
STRONGHOLD by Tucker Malarkey
STANDARD DEVIATION by Katherine Heiny
WHERE THE CRAWDADS SING by Delia Owens
Michael is a narrator who connects with characters of all ages, and he is particularly gifted with children and young adults. He creates a clear bond with each audiobook and channels their emotional tone. In THE KEY TO TREEHOUSE LIVING he captures the "joy, pain, confusion, and wonder of adolescence." Multiple Earphones Awards and Best Audiobooks selections showcase his versatility. LIGHTS ALL NIGHT LONG shows his vocal agility as he switches between accents and characters. Michael stays attuned to the nuances of the text and delivers them with impressive impact.
Essential listening from Michael Crouch
GOODBYE DAYS by Jeff Zentner
OLIVER LOVING by Stefan Merrill Block
THE GREAT BELIEVERS by Rebecca Makkai
THE BIG DARK by Rodman Philbrick
SIMON VS. THE HOMO SAPIENS AGENDA by Becky Albertalli
Soneela brings the cultural background of her Indian and Ghanaian heritage to her storytelling. THERE'S SOMETHING ABOUT SWEETIE, a dual narration with Vikas Adam, is a fan favorite and a great introduction to Soneela's animated performance style. For teen audiences or romance fans, Soneela's audiobooks have great appeal. She is also skilled with the complex world-building of fantasy audiobooks, helping to ground listeners within the story. The Aru Shah series, steeped in Hindu mythology, is a favorite of young listeners.
Essential listening from Soneela Nankani
ACCIDENTALLY ENGAGED by Farah Heron
HIS ONLY WIFE by Peace Adzo Medie
MAYA AND THE RISING DARK by Rena Barron
THE WHITE COAT DIARIES by Madi Sinha
THERE'S SOMETHING ABOUT SWEETIE by Sandhya Menon
Cassandra Campbell photo by Orit Harpaz, Michael Crouch photo courtesy of the narrator, Soneela Nankani photo by Judy Christopherson.