Journey to Pemberley in PRIDE AND PREJUDICE with Season 3 of AudioFile's Audiobook Break podcast! Jane Austen's story of Elizabeth Bennet and Fitzwilliam Darcy has delighted readers since it first appeared, and it's a story that positively shines on audio.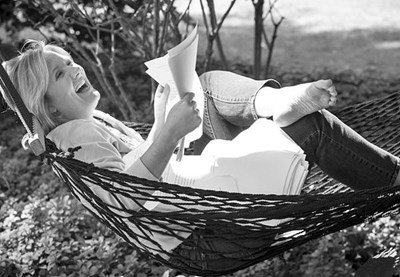 AudioFile has partnered with Alison Larkin Presents to share Larkin's version of PRIDE AND PREJUDICE, which she gives a bright and lively performance that perfectly suits this delicious story. The fun starts February 15th with episode 1, which includes the first three chapters, ready bright and early for listeners to download. Follow along as new chapters are released each Tuesday and Thursday.
In our introduction to Season 3, Audiobook Break's host, Jo Reed, discusses this new season and all things Jane Austen with Alison Larkin. You'll hear why Larkin wanted to narrate the story, her favorite character to bring to life, and why this story is so well suited to a chapter-by-chapter format.
"I felt that her wit and her humor were something that I really wanted to bring out. And I wanted to make it really accessible to the modern listener.

"—Narrator Alison Larkin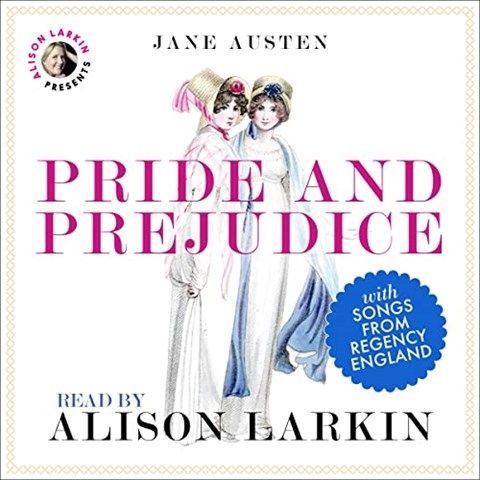 In Austen's PRIDE AND PREJUDICE, listeners meet the unforgettable Bennet family, with the frantic Mrs. Bennet, anxious to see her five daughters married off; the laconic Mr. Bennet; and their wise and witty daughter Elizabeth—who has an especially sharp repartee with the initially icy Mr. Darcy. Listeners who have only encountered the story through the film adaptations will delight in getting to know the original story in a new and deeper way. In her audiobook, Larkin includes spritely bursts of music between chapters, emphasizing the atmosphere. And she performs an added scene that takes listeners into the drawing room for the exuberant songs of Mary Bennet.
Tune in tomorrow — and be sure to subscribe to the Audiobook Break podcast so you don't miss a chapter.
Partial Transcript of Jo Reed and Alison Larkin's conversation:
Jo Reed: There have been so many versions of PRIDE AND PREJUDICE. Tell me why you wanted to perform it, and how you decided to approach it.
Alison Larkin: I had to do it, because I grew up in the very same area that Jane Austen did. I thought I knew the characters—I've always loved the book, and I felt that her wit and her humor were something that I really wanted to bring out, and I wanted to make it really accessible to the modern listener. I felt that was why I had to do it. I thought, I've got to bring this great novel to everybody here today, because it's still so utterly relevant, and so brilliant. So I did.
JR: Tell me which character was the most fun to perform.
AL: Well, I think Lady Catherine de Bourgh, don't you?
JR: I kind of do, that would have been my guess.
AL: I couldn't really resist her. And, of course, I grew up with many a Lady Catherine de Bourgh, and it was great fun satirizing her, as, of course, Jane Austen does so absolutely brilliantly.
JR: Because she's so condescending.
AL: I think she was my favorite, yes.
JR: Why do you think PRIDE AND PREJUDICE is really so well suited to a serialized, chapter-by chapter form?
AL: Because it's really got terrific suspense. You want to know what's going to happen next. So to do that every few chapters, to sort of leave you hanging like you would with any great television series, it's a perfect book for that. That's why.
JR: You wrote an extra scene! Can you give us a sneak peek at what that might be?
AL: Yeah, I wanted to take the listeners to the Bennet drawing room as if they were sitting there with Elizabeth and Darcy and all the rest of them, listening to Mary Bennet singing and playing the piano. Mary isn't the best musician in the world, and I just couldn't resist it, so at the very end we've got this scene, and she sings three songs from Regency England that they actually would have listened to at that time, and it was great fun to write and perform.
JR: What about listeners who only know the story through film adaptations, and they've never read the novel—what can they expect from listening to this audiobook?
AL: They can expect to relate to it. Human nature doesn't change. Fashions change, and modern technology moves on apace, but human nature doesn't. Some of my very favorite quotes from PRIDE AND PREJUDICE I would defy any listener to say this isn't as relevant today as when the book was written.
JR: If someone hasn't listened to a full-length audiobook, why does starting with PRIDE AND PREJUDICE and listening to it in a serialized format make sense?
AL: Because you're putting your foot in water and testing it without investing a huge amount of time or indeed money. And this Audiobook Break podcast is a brilliant idea and just a wonderful way to introduce people who perhaps have never even considered audiobooks to audiobooks through the podcast format because it's shorter, and we're all so busy, and nobody's got time. And this way, you go in, and then you'll be hooked. You'll see.
--
Find more audiobooks narrated by Alison Larkin in her audiography.
Join AudioFile for an exclusive live virtual event to celebrate all things PRIDE AND PREJUDICE with Alison Larkin and the fifth great niece of Jane Austen, Caroline Jane Knight. Sign up for the event happening live on May 3, 4 pm ET.
Photo of Alison Larkin by Sabine Von Falken.