The 2020 Audie Awards Gala last week in NYC was a glittery celebration of the APA's annual awards given in 24 categories. Mo Rocca, "CBS Sunday Morning" correspondent, author, and host of the Mobituaries podcast, emceed the sold-out event of publishers, authors, and audiobook narrators. Emily & I were surrounded by talent at Table 17 (above).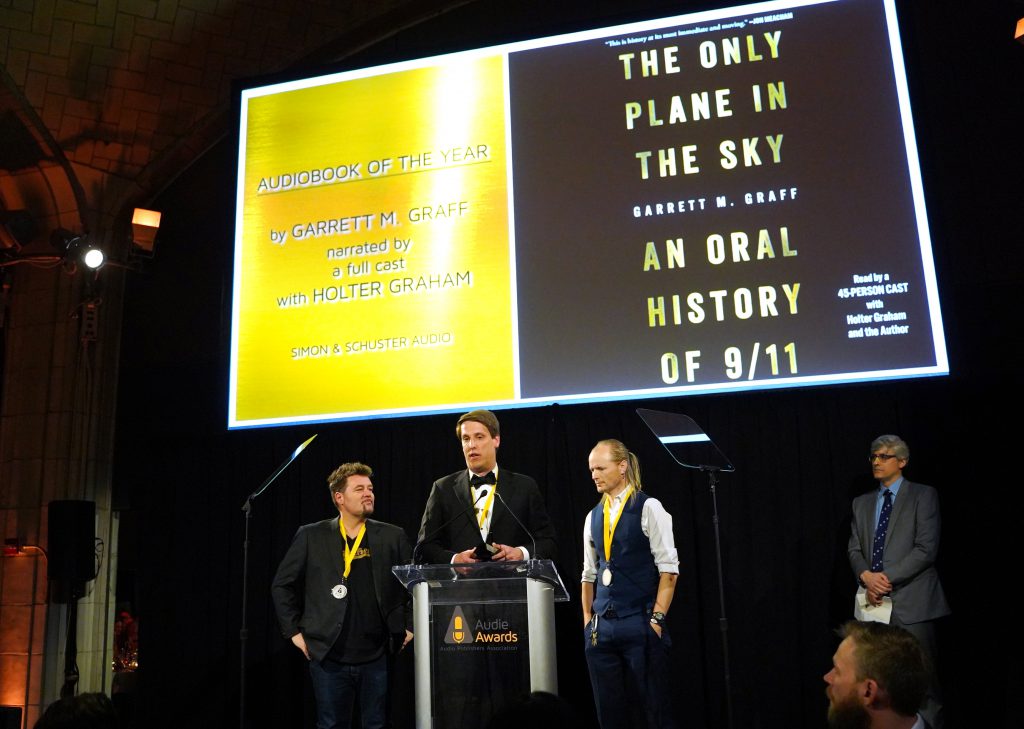 A panel of celebrity judges— Adam Silvera, Emma Straub, and R. Eric Thomas—gave the evening's top prize, Audiobook of the Year, to THE ONLY PLANE IN THE SKY: An Oral History of 9/11, published by Simon & Schuster Audio. Author Garrett Graff's minute-by-minute account of the September 11 attacks is narrated by a cast of 45 actors, led by Holter Graham. The stories and voices of people who experienced the day—emergency dispatchers, airline personnel, office workers, and families—are brilliantly realized as an aural history. The judges praised it as "an extraordinary achievement that takes a gut-wrenching and almost unimaginable text and re-injects its humanness."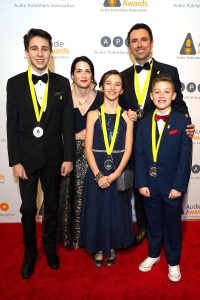 We've been writing about multi-cast productions recently, and the success of these programs continued Monday night. Audiobooks with multiple narrators were winners across numerous categories. ANGELS IN AMERICA: A Gay Fantasia on National Themes, performed by the cast of the National Theatre's 2018 Broadway Revival that included Nathan Lane and Andrew Garfield, was the Audio Drama Audie winner, as well as a contender for the Audiobook of the Year. Two other finalists also featured casts: THE TESTAMENTS, Margaret Atwood's sequel to THE HANDMAID'S TALE, boasted a cast of six, and CHARLOTTE'S WEB had a cast of 23, led by Meryl Streep. Short story collections are often cast with multiple voices. Winners in the Short Stories category—FULL THROTTLE by Joe Hill—and in Humor—MORE BEDTIME STORIES FOR CYNICS—showcased the talents of both celebrity and career narrators. The preference for multiple voices continued in the younger listener awards: HEY, KIDDO, Jarrett Krosoczka's graphic memoir adapted to audio, took the Young Adult Audie Award, and CHARLOTTE'S WEB took home the Middle Grade Audie.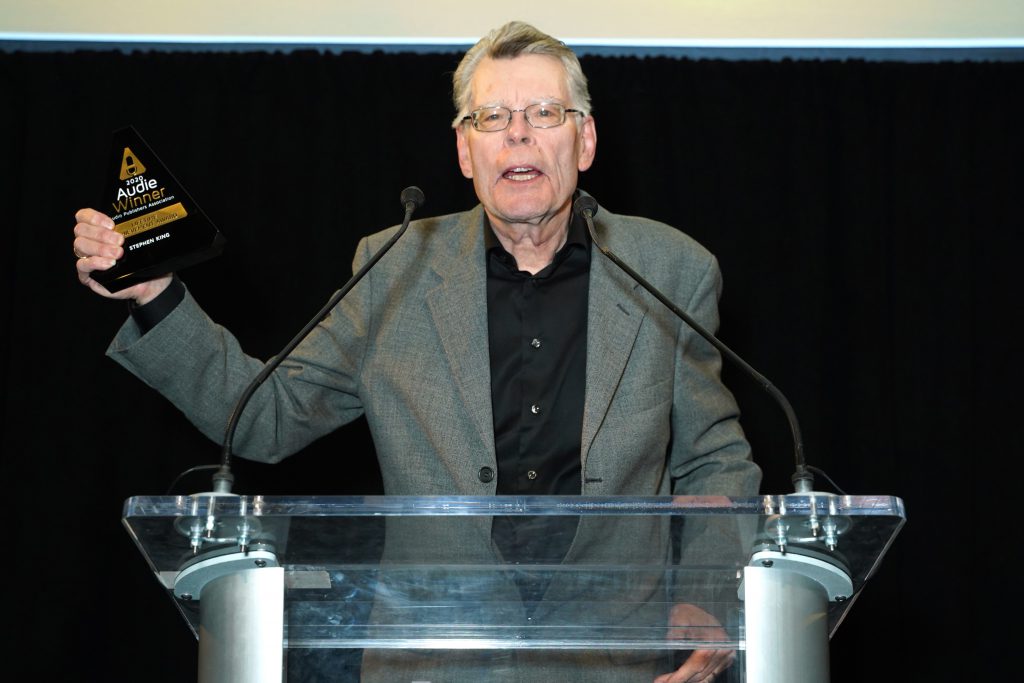 Celebrating Stephen King's long-standing advocacy for audiobooks, the Audio Publishers Association awarded King a Lifetime Achievement Award. His son Joe Hill detailed King's early insistence that his books be recorded UNabridged—even though the 20+ hour recordings resulted in multi-cassette packages that could double as doorstops. King also published several stories first-to-audio, and he has always promoted his audiobooks alongside his print books. He led the creation of The Haven Foundation, originally started as the Wavedancer Foundation after narrator Frank Muller's accident, established for the benefit of actors and freelance performing artists whose catastrophic accidents or illnesses have left them uninsured and unable to work.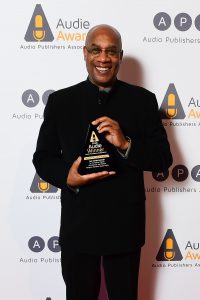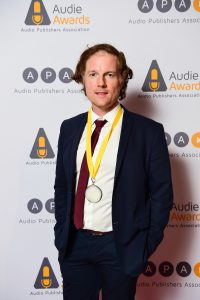 Individual authors and narrators were celebrated throughout the evening. Authors Michelle Obama (BECOMING) and Elizabeth Acevedo (WITH THE FIRE ON HIGH) received Audie Awards for their author-narrations. Elizabeth Gilbert's CITY OF GIRLS, narrated by Blair Brown, and Ta-Nehisi Coates's THE WATER DANCER, read by Joe Morton, took the top Fiction awards. Nonfiction accolades went to AMERICAN MOONSHOT by Douglas Brinkley, read by Stephen Graybill, and GRACE WILL LEAD US HOME by Jennifer Berry Hawes, narrated by Karen Chilton and the author.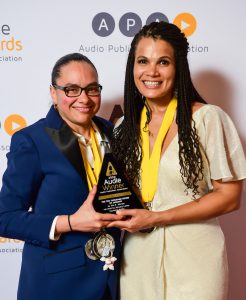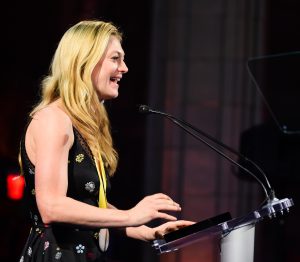 Accolades in the genre categories went to: Fantasy—THE TEN THOUSAND DOORS OF JANUARY; Mystery—THE CHESTNUT MAN; Romance—DEVIL'S DAUGHTER; Science Fiction—EMERGENCY SKIN. Stephen King fittingly took the Thriller/Suspense category with THE INSTITUTE. The Best Male Narrator Audie went to Robert Bathurst, narrator of Louise Penny's KINGDOM OF THE BLIND, and Best Female Narrator was Marin Ireland, narrator of Kevin Wilson's NOTHING TO SEE HERE.
The star-studded gala evening is always a great way to celebrate the audiobook in its many styles and configurations. Take it from the master—as Stephen King summed up, "This is the most honorable form of storytelling there is."
The complete 2020 Audie Awards winners and finalists are featured with sound samples at www.theaudies.com