Audiobooks are a great way to expose kids to a diverse range of people, experiences, and settings. Listening can expand their understanding of the multicultural world they live in, help them develop empathy for others, and present authentic stories that reflect and validate their own and their friends' voices. These are some of my all-time favorite audiobooks with Latinx characters and/or narrators to celebrate Hispanic Heritage month.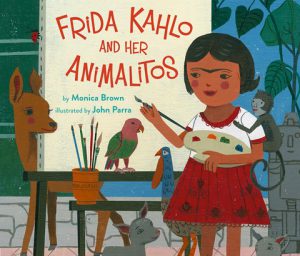 FRIDA KAHLO AND HER ANIMALITOS
by Monica Brown, read by Adriana Sananes
Dreamscape, Ages 6+
Lively animal sounds and the soothing voice of Adriana Sananes make this a joyful listen for kids, highlighting the influential Mexican painter's spirit, curiosity, and imagination. Pair this audiobook with images of Kahlo's paintings so kids can see the actual animalitos that Frida loved.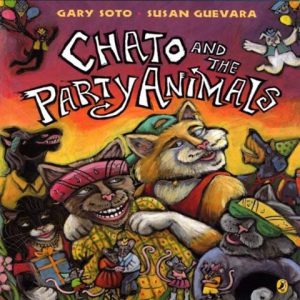 CHATO AND THE PARTY ANIMALS
by Gary Soto, read by Luis Guzman
Weston Woods Studio, Ages 4-6
Modern Latin music enlivens this funny story about a cool barrio cat who throws a birthday party for his friend. Spanish words and Guzman's accent lend authenticity to the barrio setting, but kids from all kinds of neighborhoods will enjoy this sweet story about celebrating friendship.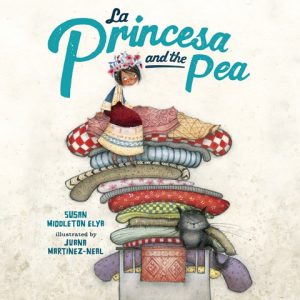 LA PRINCESA AND THE PEA
by Susan Middleton Elya, read by Laura Ortiz
Listening Library, Ages 4-6
Set in Peru with rhyming text incorporating Spanish words, this playful and engaging retelling brings a Latin twist to the traditional Andersen fairy tale. Ortiz voices La Reina, El Príncipe, and La Princesa, seamlessly moving from English to Spanish as the plot swiftly progresses.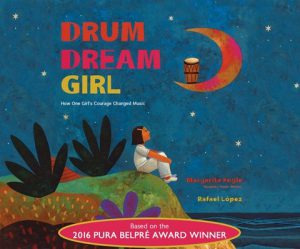 DRUM DREAM GIRL: How One Girl's Courage Changed Music
by Margarita Engle, read by Adriana Sananes
Dreamscape, Ages 6+
Inspired by the true story of a Cuban girl who broke traditional taboos against female drummers, this story has an important message about following your dreams. Narrator Adriana Sananes's beautiful tone and accent artfully portrays Mira's brave quest to play the drums, and a soundtrack of drum beats gives the flavor of her island home.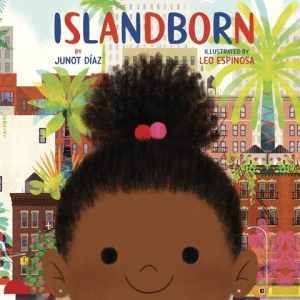 ISLANDBORN
by Junot Díaz, read by Junot Díaz
Listening Library, Ages 6+  
Junot Díaz's first work for young children is a response to his goddaughters, who wanted a book with characters like them, Dominican girls living in the Bronx. Listening to his narration is like having a story read to you by a beloved family friend. As Lola asks her neighbors and family about their former life in the Dominican Republic, they share memories of lively music, swooping "blanket-sized" bats, and the hurricane their family survived, with sound effects to help listeners imagine the details. For kids who are "from somewhere else" and for those who welcome them, this audiobook will inspire empathy for immigrants as well as imagination for distant lands.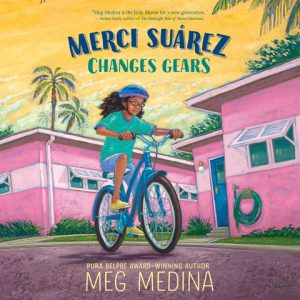 MERCI SUÁREZ CHANGES GEARS
by Meg Medina, read by Frankie Corzo
Brilliance Audio, Ages 8+
Many listeners will relate to Merci as she navigates changes and challenges in her close knit extended family and school life as a new sixth grader. Corzo perfectly delineates the Spanish words and accents of Merci's Cuban immigrant family, but she uses a neutral American accent to narrate Merci's voice, highlighting the way Merci confidently straddles both cultures.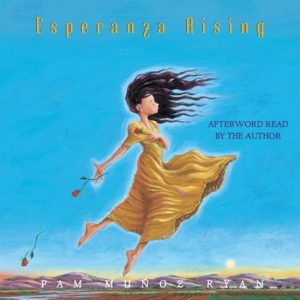 ESPERANZA RISING
by Pam Muñoz Ryan, read by Trini Alvarado
Listening Library, Ages 8+

Esperanza falls in status from the young daughter of wealthy landowners in Mexico to migrant farm worker in California during the Great Depression. Trini Alvarado skillfully intersperses Spanish phrases and songs in this authentic story with themes of racism, sexism, class, and immigration based on the experiences of the author's grandmother.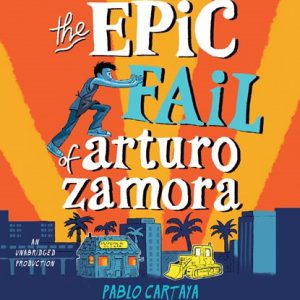 THE EPIC FAIL OF ARTURO ZAMORA
by Pablo Cartaya, read by Pablo Cartaya
Listening Library, Ages 10+
Cartaya's narration brings warmth, personality, and passion to the characters in his book about a boy trying to save his family's Cuban restaurant from developers in Miami. He makes each character unique while weaving them into this realistic and funny story about culture, family, and community. See also Cartaya's new book MARCUS VEGA DOESN'T SPEAK SPANISH.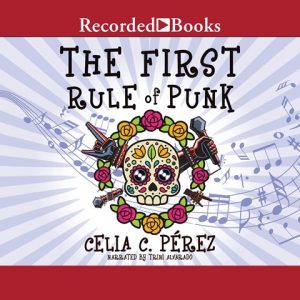 THE FIRST RULE OF PUNK
by Celia C. Pérez, read by Trini Alvarado
Recorded Books, Ages 10+
When Mexican-American Malú has to move away from her dad and everything she knows, she embarks on a new school journey full of misadventures and hilarious life lessons. Navigating a cast of diverse characters, from Malú's outspoken mother to her punk rocker father and neighborly Señora Oralia, Alvarado flawlessly tackles a variety of Midwestern and Spanish accents. Listeners will be rooting for Malú as she strives to adhere to the first rule of punk: be yourself.