Christopher Gebauer and a full cast bring the unruly classroom of THE UNTEACHABLES to life. Christopher gives voice to high-energy Mateo, one of the students in this "Self-Contained Special Eighth-Grade Class." In this video, he shares how much he enjoyed recording as part of an ensemble cast, and what that brings to a project.
"I love multi-cast projects, working with other narrators. It reminds me of the radio plays I grew up listening to."—Narrator Christopher Gebauer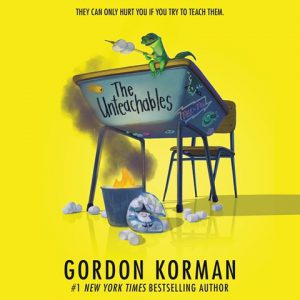 THE UNTEACHABLES
by Gordon Korman, Read by Sarah Beth Goer, Oliver Wyman, Josh Hurley, Tristan Morris, Chris Gebauer, Sean Welsh Brown, Pete Larkin, Fred Berman, Jennifer Nittoso
Harper Audio
A stellar ensemble cast brings crowd-pleasing personality to a diverse group of misfit students and their teacher in this funny classroom story. Mr. Kermit is counting the days until his retirement, but in his final year of teaching, he is relegated to "The Unteachables." Over the course of the school year, this underdog group experiences mischievous mayhem, as well as friendship and triumph.
Find more Children's and Young Adult audiobooks—including more full-cast projects—in Christopher Gebauer's audiography.