I was very excited that the Audie Awards returned to an in-person gala in 2023, even though I was unfortunately unable to attend in person this year (thank goodness for live streaming!). As a mystery fan, of course the titles in the Mystery and Thriller/Suspense categories are the most interesting to me, and this year's represent a wide variety of genres. Below, I delve into each of the finalists—all of which deserve your listening.
In THE BANGALORE DETECTIVE CLUB by Harini Nagendra, narrated by Golden Voice Soneela Nankani, listeners are transported to colonial India. Nankani beautifully meets the challenge of voicing men and women from many different backgrounds while effectively conveying their personalities. This is the first in a new historical mystery series featuring female amateur detective Kaveri and her husband Ramu.
Another historical mystery audiobook in this category is THE MURDER OF MR. WICKHAM by Claudia Gray, narrated by Billie Fulford-Brown. As with Sir Arthur Conan Doyle and Agatha Christie, Jane Austen has inspired legions of reinterpretations and repurposing of her characters. In this case Austen's characters from several of her novels are invited to a gathering by Emma. The murder of the uninvited Mr. Wickham disrupts the festivities. As most of the guests are suspects, it becomes the mission of the two youngest guests to solve the case. Billie Fulford-Brown brings a delightful energy to performing this Regency mystery.
THE MAID by Nita Prose, narrated by Lauren Ambrose, features a unique detective/protagonist, Molly Gray, a maid in a luxury hotel who has challenges interpreting social cues. Ambrose masterfully puts listeners inside Molly's world through her somewhat naïve and rule-based perspective. Fans can look forward to this being made into a motion picture.
As it's set in modern-day Chicago and features a professional private investigator, listeners will find themselves totally engaged in SUSPECT by Scott Turow, narrated by Helen Laser. Laser is a perfect match for the edgy personality of P.I. Clarice "Pinky" Granum. As listeners expect from a Turow novel, there are tense courtroom scenes interspersed with serious detective work as well as interesting characters, who are portrayed very effectively.
You won't be surprised to learn that all of the above finalists are Earphones Award winners.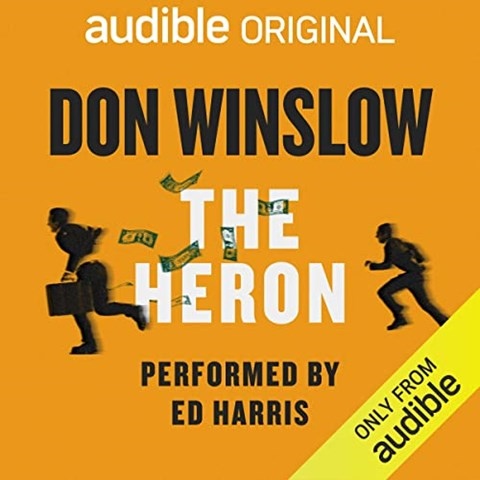 And last but not least, we have the winner of the 2023 Audie Award in the mystery category, THE HERON, by Don Winslow and narrated by Ed Harris. Yes, that Ed Harris, the famous actor. The audiobook is a real grabber and a thoroughly engaging experience. Harris is in tune with the pace and noirish quality of the story. He also differentiates the characters well and finds a perfect voice for the lead character, known to his neighbors as The Heron. What is a bit surprising about this choice is that the audiobook is a novella, clocking in at just a little over an hour long. It competed with audiobooks that are substantially longer, with greater depth of story and more characters for the narrators to perform. That said, this winning audiobook is certainly worth a listen.
Beyond the Mystery Category, I would like to draw your attention to the winner in the Thriller/Suspense category, GREENWICH PARK by Katherine Faulkner, narrated by Laura Kirman. Check out the finalists in that category as well—they are all worthy listens.
And for the big prize of Best Male Narrator, mystery/thriller fans will be pleased to see the winner is Seth Numrich for Stephen King's FAIRY TALE. Numrich wasn't present at the Gala either, but he did make a pre-recorded acceptance speech via video, and it was fun to see the face behind the talented voice.
Congratulations to all of the finalists and winners. And thank you to the Audio Publishers Association for bringing us the Audies.
Audie finalists medal image by Max Flatow Photography.