Corey Allen narrates Nana Kwame Adjei-Brenyah's moving collection of short stories, FRIDAY BLACK. The themes of these stories include the power divide, minimum-wage work, racism, education, and the consequences of ethical decisions, and Corey shares why it's a collection well worth your listening time.
"What Nana manages to capture in this series of tales of young black people navigating a constantly moving, constantly shifting American landscape is incredible."—Narrator Corey Allen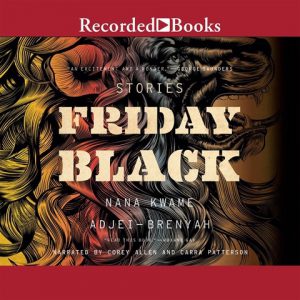 FRIDAY BLACK
by Nana Kwame Adjei-Brenyah, read by Corey Allen, and Carra Patterson
Recorded Books
AudioFile Earphones Award
Narrators Corey Allen and Carra Patterson perform this collection of powerful stories, most of which are set in a believable future, although some are speculative or dystopian fiction. Allen narrates the bulk of the pieces, giving the prose a free-verse style and letting the author's words and the characters' emotions rise to the surface. The strength of these stories lies in how they reflect contemporary society and connect listeners to the characters' journeys.
Corey Allen has narrated audiobooks by Chuck Palahniuk, Kwame Alexander, and more—browse his audiography for more listening.