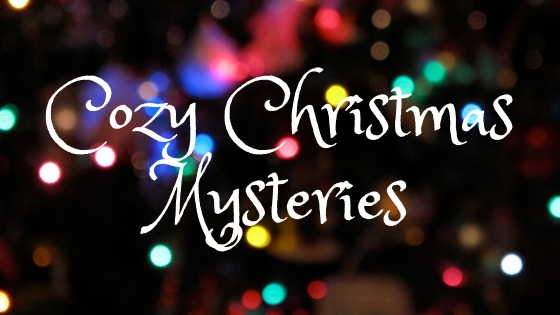 Don't panic, but Christmas is less than a week away! If you celebrate Hanukah, then you're already cruising and looking forward to the new year, but if you celebrate Kwanzaa, Christmas, or the winter solstice, then you're probably deep into last-minute prep.
For most of us, pre-holiday activities include baking and cooking, cleaning, decorating, shopping, wrapping, and—I hope—relaxing in the evening with some cookies and a warm (or warming) drink. Are you looking for something that will make all of those chores more fun and will put you in a holiday mood? One of my secrets is listening to holiday-themed cozy mystery audiobooks.
If you're unfamiliar with the term, a cozy mystery is one that usually stars an amateur sleuth, avoids gruesome details about the murder scene, and is as much about the characters as it is about solving the crime. Although it's always fun to start a light mystery series from the very beginning, one of the beauties of cozies is that you can generally jump in anywhere and get caught up in small-town doings, close friendships and budding romances, and figuring out whodunit.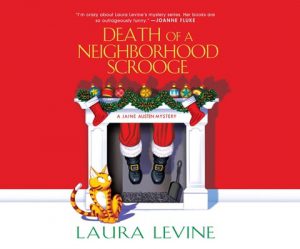 My Take 5 recommendations for this holiday season focus on Christmas mysteries and include both new releases and backlist titles. Each one is sure to help your stress levels go down a couple of notches and make you look forward to your pre-holiday preparations. Remember, baking time is audiobook listening time!
DEATH OF A NEIGHBORHOOD SCROOGE by Laura Levine is the latest audiobook in a series featuring freelance writer Jaine Austen. In this outing, Jaine has agreed to spend the holiday season in Bel Air, house-sitting for a friend. Instead of enjoying the luxuries of the mansion, though, she soon finds herself as the prime suspect in a neighbor murder. Narrator Brittany Pressley perfectly captures Jaine's personality and is equally adept at delivering the humor and the action as our hero tries to clear her name.
One of my favorite series is Alan Bradley's Flavia de Luce books. In I AM HALF-SICK OF SHADOWS, young Flavia's scheme to prove that Santa Claus is real is disrupted when her father rents out the estate to a movie company that uses the house as its film set. When one of the actors is murdered, Flavia is on the case, determined to find the villain. Jayne Entwistle's portrayal of Flavia is spot-on, as are her voices for the secondary characters, making this British Christmas mystery a delight to listen to. Definitely get an inside peek into the series in this conversation with Alan Bradley and Jayne Entwistle—the two had never spoken before our joint interview!
Meet librarian Charlie Harris and his Maine coon cat, Diesel, the stars of Miranda James's Cat in the Stacks series, set in Mississippi. SIX CATS A SLAYIN' provides a terrific mix of Christmas cheer and lots of action. Charlie has his hands full as he and his friends get involved with investigating a death by poisoning. Meanwhile at home, Charlie and Diesel are giving temporary shelter to a litter of abandoned kittens. Narrator Erin Bennett's Southern inflections and good sense of comedic timing will warm your holiday heart.
For a nostalgic Christmas of days long past, travel to 1950s Cavendish, England, where Lord James Harrington  and his American wife are hosting a holiday party and townsfolk are staging a yule-time play. Lynn Florkiewicz's LORD JAMES HARRINGTON AND THE WINTER MYSTERY introduces us to a wonderfully quirky and appealing cast of characters, whose December celebrations are marred by murder. Listeners will enjoy narrator David Thorpe's accents and touch of drama, which keep them invested as James tracks down the killer.
LARK! THE HERALD ANGELS SING by Donna Andrews is the latest entry in the unique cozy series starring Meg Langslow, an artist blacksmith. As the town of Caerphilly, Virginia, gets ready for the holiday season, Meg's life is turned upside down when trouble comes knocking for her brother and a young man is framed for murder. Veteran voice performer Bernadette Dunne leads us through the ensuing fun and mayhem as Meg tries to put everyone and everything back on track.
No matter how you're celebrating this month, don't forget to pause for a deep breath every now and again, and remember that audiobooks can make your preparations less stressful and much more entertaining.