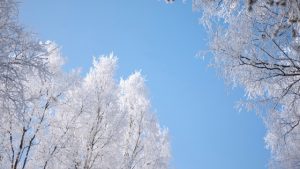 Baby, it's cold outside (for some of us). Time to cozy up with some cozies. The definition of "cozy"( or in the UK, "cosy") seems to be very elastic. Agatha Christie, with her Miss Marple and Hercule Poirot series, is often cited as the originator of this mystery sub-genre. Listeners might enjoy the 2017 Audible Original full-cast recording of MURDER ON THE ORIENT EXPRESS. For those who have taken on the #ListeningChallenge2019, this would be a perfect way to breeze through Challenge #1: Listen to an audiobook performed by a full cast.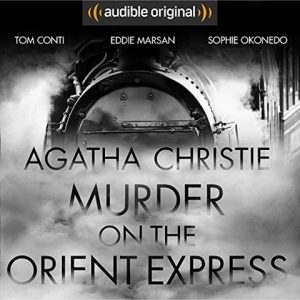 What the Poirot series shares with other books in this genre is an appealing protagonist (more often an amateur sleuth); a supporting cast of amusing, quirky, and sinister characters; a murder done neatly off-scene or at least minus the graphic violence; and the opportunity for the listener to solve the mystery along with the lead character. The conclusion usually holds both a surprise and a sense of justice.
In many instances, "cozy" also implies a small-town cozy setting. The Murder She Wrote series provides a great example of the typical cozy.  We all know Jessica Fletcher and her Cabot Cove, Maine, neighbors. The 48th book in the series, MURDER SHE WROTE: Manuscript for Murder, written by Jon Land and narrated by Earphones Award Winner Laurel Lefkow, was released in November 2018. Over the years the books have been written by several authors and read by several narrators.  To experience a good example of a traditional cozy, try MURDER, SHE WROTE: The Maine Mutiny.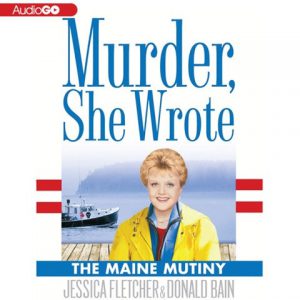 This small-town aspect of the cozy definition is often discarded—even Jessica, having run out of people to be murdered and crimes to be solved in Cabot Cove, starts roaming around the globe.
Now many of the cozy series are themed—food is a big one for our amateur sleuths: Thus, we have Diane Mott Davidson's caterer Goldy Schulz series. The most recently published audiobook in the series, THE WHOLE ENCHILADA, is narrated by Earphones Award Winner Barbara Rosenblat, also known for her screen credits, including the Netflix series Orange Is the New Black.  Read about this prolific audiobook narrator on her narrator page.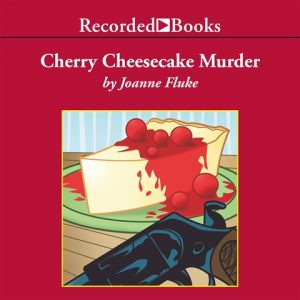 If you don't mind getting really hungry as you listen, you might enjoy Joanne Fluke's Cookie Jar Bakery series. The audiobooks have mouth-watering titles such as CHERRY CHEESECAKE MURDER AND KEY LIME PIE MURDER. However, listening to these may disrupt your New Year's resolution to lose weight.
I particularly enjoy cozies that veer into the realm of funny mystery—Janet Evanovich's Stephanie Plum series being a prime example. In the most recent book in the series, LOOK ALIVE TWENTY-FIVE, listeners will once again enjoy the narration of Lorelei King portraying Stephanie and the irrepressible Lulu.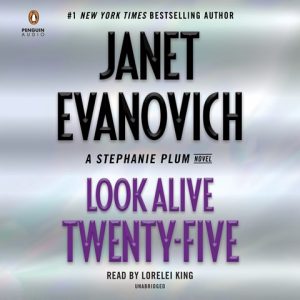 While there is a wide range of mysteries that fall into the cozy category, one of the key features that keeps listeners coming back is the appeal of the protagonist. This is someone you enjoy spending time with performed by a narrator who you can listen to for hours, and you can't wait for the next book in the series to be published. And with all of the themed series—from cafés to scrapbooking to knitting to blues guitar playing—there is a cozy out there to appeal to everyone.