Director, adaptor, and narrator Nanette Savard introduces AudioFile listeners to GraphicAudio sound designers Casey Green and Justin Wortz. They helped create the lively sound effects in VAGRANT QUEEN: The Bezoar of Kings by Magdalene Visaggio and Jason Smith, one of AudioFile's best Science Fiction & Fantasy audiobooks of 2021. How do you decide what an alien shopping mall or a tropical planet should sound like? Listen and find out!
"No one can tell you it's wrong, because it doesn't really exist!"—Sound designer Justin Wortz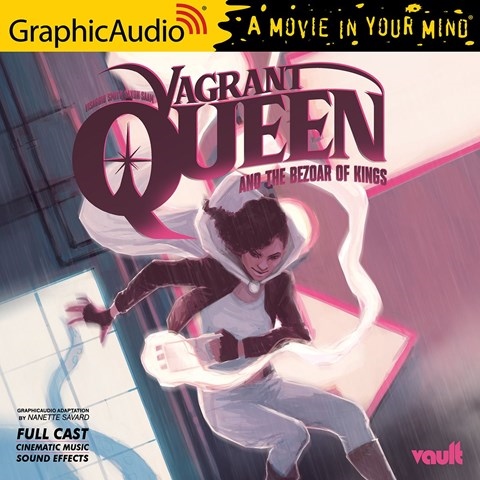 VAGRANT QUEEN: The Bezoar of Kings
by Magdalene Visaggio, Jason Smith, read by Nanette Savard and a full cast
GraphicAudio
AudioFile Earphones Award
Narrator Nanette Savard and an ensemble of voice actors skillfully create a universe in which a queen flees from villains who fear she will try to reclaim her throne. Thanks to the wonderful narration, it's easy to get lost in the adventure. No-nonsense Queen Elida teams up with Isaac, a cocky rebel from the Han Solo School of Rogues, to steal a mind-control device from a bad guy. The full cast and generous sound effects bring the Vagrant Queen saga to life.
Find more audiobooks narrated by Nanette Savard in her audiography.