Fellow mystery audiophiles, before I dive into my creepy recommendations for the Halloween season, I want to call your attention to a very special FREE event that you are all invited to: On October 27 from 12 noon to 1 pm (ET), Michele Cobb, Publisher of AudioFile Magazine, will be moderating a live Zoom conversation with four award-winning mystery narrators: JD Jackson, Imogen Church, Kate Reading, and Je Nie Fleming. You can register here, and you can even submit questions beforehand. Don't miss this opportunity to hear from these talented performers about their experiences narrating mysteries. I know I will be there.

Now for the business of scaring the pants off of you! How do you frighten people when we are already living in such scary times?
Perhaps you write about an invisible virus that causes a global pandemic. This is what Peter May did in 2005. However, his manuscript was rejected for being too far-fetched. Now LOCKDOWN, narrated by Peter Forbes, holds up a mirror to our current situation. For a great discussion with Peter May, you should check out this recording of an interview with him from the Bloody Scotland 2020 online conference. He discusses the process of bringing this book to publication. As a bonus, you can also hear an interview with Ann Cleeves about her latest Vera Stanhope audiobook, THE DARKEST EVENING, narrated by Janine Birkett.
For a more traditional fright fest, you can't do better than Stephen King's IF IT BLEEDS, which contains four novellas, read by Will Patton, Steven Weber, and Danny Burstein. Listeners are gifted with the master horror storyteller paired with outstanding narrators, including six-time Tony nominee Burstein. It's not surprising that this audiobook is an Earphones Award winner. As an aside, for a very scary and very real tale, read about Danny Burstein's personal experience with COVID-19. With Broadway not reopening until May 2021, perhaps we will benefit from more of Broadway's talent narrating audiobooks.
For something a bit less traditional, you might want to listen to MEXICAN GOTHIC by Silvia Moreno-Garcia, narrated by Frankie Corzo. This gothic horror novel takes place in 1950s Mexico, where young socialite Noemi Taboada travels to the High Place, an old mansion in the countryside, to support her newly married cousin Catalina—and discovers that very little is what it seems. Hear from narrator Frankie Corzo on why she enjoyed narrating MEXICAN GOTHIC in her narrator video. For even more fun, this novel has its own Spotify playlist and a paper doll pdf that allows fans to dress Noemi in the fashions of the day featured in the novel. And it is being developed as a limited streaming series for Hulu.
And for something a little bit lighter, you might try THE SOUTHERN BOOK CLUB'S GUIDE TO SLAYING VAMPIRES by Grady Hendrix, read by Golden Voice Bahni Turpin. The story takes place in Charleston in the nineties and features a group of housewives who meet up for their crime fiction book club and end up investigating a newcomer to town who turns out to be a vampire.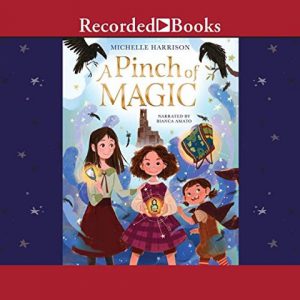 With fun (and cavity-inducing) door-to-door trick-or-treating largely prohibited this year, perhaps you can entertain your young ones with A PINCH OF MAGIC by Michelle Harrison. Narrator Bianca Amato will captivate listeners with her reading of this tale of enchanted objects, deadly curses, and suspenseful adventure. And couldn't we all use a pinch of magic these days?