For fans of history, culture, and poetry, this will be a title that lingers on the playlist to return to time and again. Author Ha Jin explores the life of eighth-century Chinese poet Li Bai in THE BANISHED IMMORTAL, and narrator David Shih's gentle, compassionate delivery keeps listeners engaged. Journey back in time with Shih to discover the life and work of poet Li Bai.
"Li Bai led a truly remarkable life, and I think this book really does a beautiful job of telling his life story against the backdrop of his poems."—Narrator David Shih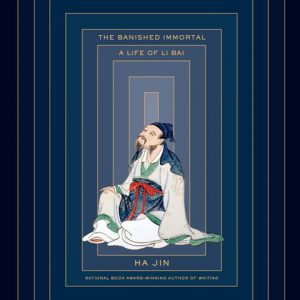 THE BANISHED IMMORTAL: A Life of Li Bai (Li Po)
by Ha Jin, read by David Shih
Random House Audio
Chinese-American poet and novelist Ha Jin creates a portrait of Li Bai, one of China's most influential poets, as if the poet were one of his characters. Narrator David Shih is an engaging choice for this well-researched work. He recounts the significance of Li Bai's work, which was unrecognized for its genius during his lifetime, as he evokes the intricacies of Chinese society in the eighth century.
Find more audiobooks narrated by David Shih, from THE GUEST CAT to BUTTERMILK GRAFFITI, in his audiography, and watch for our interview with Shih in the April/May 2019 issue of AudioFile magazine!