With a new mini-series here on Tease that we're calling our "Discover" series, we're including images that will help take you deeper into the world of the romance audiobook we're recommending. Consider it inspiration for a more immersive listening experience.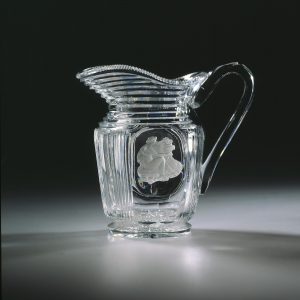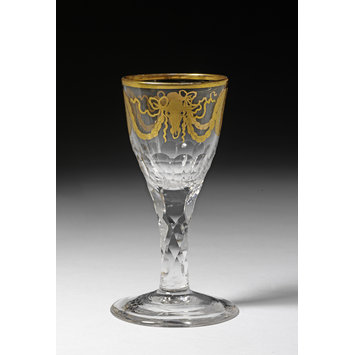 To go along with SOMEONE TO WED by Mary Balogh, narrated by Rosalyn Landor, I've chosen a pair of images from the Victoria and Albert museum of London, including this 19th-century British glass jug made by Apsley Pellatt & Co.  Pellatt was an experimental glassmaker who perfected the technique of sulphides, or medallions in glass. In Balogh's story, Wren owns a glass factory in Staffordshire, so I wanted to reflect Wren's love of beautiful glass creations.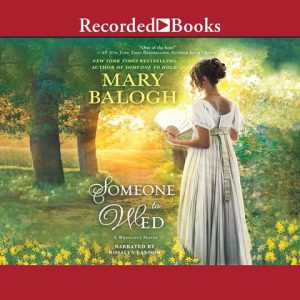 And, to evoke a very special moment in Balogh's book, here's a wine glass designed by James Giles (also from the V&A) in the 1700s. Wren is touched to see wine glasses — perhaps something like this one — as part of a table setting because they remind her of her late uncle's exquisite work in glass.
I'm also including an interview with Balogh about the book and a link to the Corning Glass Museum (NY) which describes working in a glass factory during this time. (Unsurprisingly, working conditions were hot, dirty, and sometimes dangerous.)
Here's a little more about author Mary Balogh's SOMEONE TO WED, narrated by Rosalyn Landor. It's a marriage of convenience novel. The unexpected earl, Alexander Westcott, being desirous of saving his ramshackle estate, contemplates marriage with his neighbor Wren. Landor's narrative style draws the listener into the proper, elegant world of British society while revealing the hidden desires and fears of her characters. Her slow, often drawling voice perfectly represents the extended courtship of the Regency couple.
I hope your listening experience with SOMEONE TO WED is as sparkling as these gorgeous works of art.
Photos © Victoria and Albert Museum, London