As our national celebration of family and pie approaches, I'm reminded of the Thanksgiving when our gorgeously brown turkey slid off the serving platter and across the none-too-clean kitchen floor. After a stunned silence, my mother called out, "Julia Child!" We took up the cheer, "Yes, yes, Julia Child!" And with that paean to the woman who showed America how to cook and cope cheerfully with culinary setbacks, we plopped the bird back on the platter and headed into the dining room to brave my uncle's divergent political opinions. (For more on the indomitable American cook, I recommend Wanda McCaddon's reading of APPETITE FOR LIFE: THE BIOGRAPHY OF JULIA CHILD.)
Weighted with food calamities, family contretemps, and expectations of perfection, November Togetherness Day can be tense. As Joe Barrett's fine performance of Richard Ford's THE LAY OF THE LAND reveals, it can also be joyous. Selected as an AudioFile Best Audiobook of 2007, the novel drops us into the amusing and angst-ridden tribulations of Frank Bascombe, Ford's everyman hero, as he faces Thanksgiving with friends and family.
Should you find that offering to make three apple pies this year has you as fretted as Frank, I suggest peeling fruit while listening to Daniel Pinkwater's THE HOBOKEN CHICKEN EMERGENCY, in which Arthur Bobowicz returns home with a 266 pound live chicken instead of a turkey for Thanksgiving. Follow that by his LOOKING FOR BOBOWICZ: A HOBOKEN CHICKEN STORY. Both are perfectly read by the author, very funny, wise, and intended for children of all ages. Whatever you're cooking or cleaning will be done amid gales of laughter, which you and your family deserve.
So, the year I experimented with individual squabs (one to a plate) was the year I learned that my mother disliked food that "looks like itself." And the year when all the men at my aunt's house left mid-meal to watch life's most important football game, they were surprised that anyone had been offended. Yet, let's not forget the time that absolutely everyone agreed to go on a post-turkey walk and if I'd remembered to take a photograph, it would have shown smiles all round.
Despite the accompanying issues, families, born-to or created, are a wonder. I was reminded of that when listening to Kevin Wilson's recent PERFECT LITTLE WORLD, read with an an Earphones Award-winning performance by Thérèse Plummer. It's a quirky, funny take on family through the eyes of a pregnant high-school graduate who joins a research project called The Infinite Family. While Thanksgiving isn't part of the story, giving thanks for whatever you bring to life's table is front and center.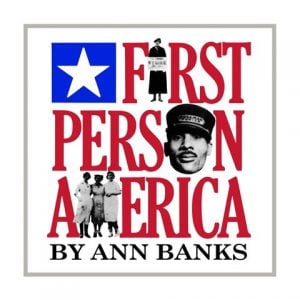 Finally, I suggest adding FIRST PERSON AMERICA by Ann Banks, read by Tony Kahn, to your playlist. These oral histories were collected by the National Writer's Project 1935 interviews with everyday folks during the Great Depression and were later discovered in the Library of Congress and compiled in this book. It's a celebration of America's varied people and a reminder that best Thanksgivings are those when everyone is invited.