Listen in as narrator Graham Halstead goes Behind the Mic to tell us about narrating A STUDY IN CHARLOTTE, a contemporary mystery about Charlotte Holmes and Jamie Watson, the great-great-great-grandchildren of Sherlock Holmes and Dr. Watson.
"If you like Sherlockian mystery with a twist, or if cleverly plotted YA is your thing, then this is the series for you!"—Narrator Graham Halstead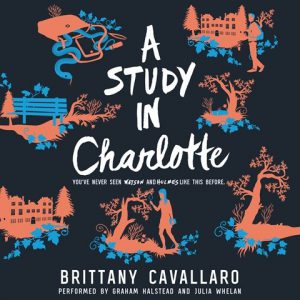 A STUDY IN CHARLOTTE: Charlotte Holmes, Book 1
by Brittany Cavallaro, read by Graham Halstead and Julia Whelan
Harper Audio
Sherlock-inspired stories make for great listening from Graham and Julia. With a 21st-century setting, A STUDY IN CHARLOTTE will appeal to teens (and parents who listen in).  CHARLOTTE is the first of a trilogy—followed by THE LAST OF AUGUST, and THE CASE FOR JAMIE—just published this month!
A STUDY IN CHARLOTTE is one of the featured free audiobooks for teens available through our summer SYNC Program! Don't forget to register to receive text or email notices about all of the SYNC titles.