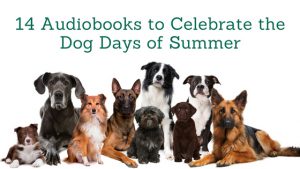 I wanted to collect audiobooks about dogs while we're in the "dog days of summer" . . . only to find out that the original meaning has nothing to do with dogs. The Greeks used "dog days" for the hottest days of the summer when our brightest star, Sirius (aka the "dog star"), appears in the east. Nevertheless, it's still a good theme, and I've found a terrific array of listening choices for dog lovers.
Let's start with a couple of the newest audiobooks featuring our canine friends. This audiobook from an independent audio publisher gets a stunning review and Earphones Award: ATTICUS: A Woman's Journey with the World's Worst Behaved Dog. I think most of the credit goes to the amazing narrator Bahni Turpin, who delivers the heart and soul of the story. And of course who wouldn't be curious about a dog with the dubious distinction of "world's worst behaved"? Stephen Kuusisto's memoir has a lovely premise of seeing the world through his guide dog, Corky. HAVE DOG, WILL TRAVEL: A Poet's Journey with an Exceptional Labrador. Narrator Fred Sanders makes this his story as well. Another new title—for young listeners, ages 6+—is also about a service dog, RESCUE & JESSICA: A Life-Changing Friendship. Golden Voice narrator John McDonough, whom we have not heard in far too long, welcomes listeners with his avuncular charm.
Some audiobook dogs seem to have eternal life, or at least their series do. David Rosenfelt's mystery series does not feature the same dog, but lawyer Andy Carpenter always gets entangled with one or more canines. In the July-released RESCUED, it's 70 dogs! Series narrator Grover Gardner has gotten Earphones acclaim for nearly all the titles. You can hear why in this sound sample:

COLLARED and WHO LET THE DOG OUT? are other Rosenfelt-Gardner favorites. And then there's Spencer Quinn's Chet and Bernie series, including SCENTS AND SENSIBILITY  and THE SOUND AND THE FURRY, both narrated by longtime series voice Jim Frangione. Possibly Hank the Cowdog is the longest survivor. Author John Erickson started publishing in 1982, and 73 episodes later, Hank is still up to his old tricks. They're wacky family fun—try THE QUEST FOR THE GREAT WHITE QUAIL and many others!
Three contemporary dog stories that seem to turn up on many dog lovers' lists are A DOG'S WAY HOME, THE ART OF RACING IN THE RAIN, and MARLEY & ME. With Marley, we revisit the "world's worst dog," and perhaps should compare him to Atticus! All three make good listening. And finally, I must add two "classics" for your listening queue. When you listen to E.B. WHITE ON DOGS: Letters by E.B. White , the author's wit and wisdom are so present, and narrator Malcolm Hilgartner does a terrific job. I was less familiar with J.R. Ackerley's MY DOG TULIP, but I have a great fondness for narrator Ralph Cosham and wanted to include that Earphones Award winner and Audie Award Finalist.
With 14 audiobooks already highlighted, this post could keep going, but please—add your own favorite dog story listening in the comments below!