I often struggled to find myself reflected in books when I was younger—an experience that so many people share, for so many different reasons. These days, as I listen my way through dozens and dozens of queer books every year, I sometimes think about the reader I was as a teenager and how amazed she would have been by the sheer amount of LGBTQ+ titles available now. Some of my favorite books to read now are the ones I affectionately call "Everybody's Gay!" books. These are books with not one, not two, not three, but many queer characters. Everybody might not be gay, but almost everybody is. Whenever I find a new one, it feels like a little bit of magic. And 2022 was a banner year for them! These are a few of my favorites.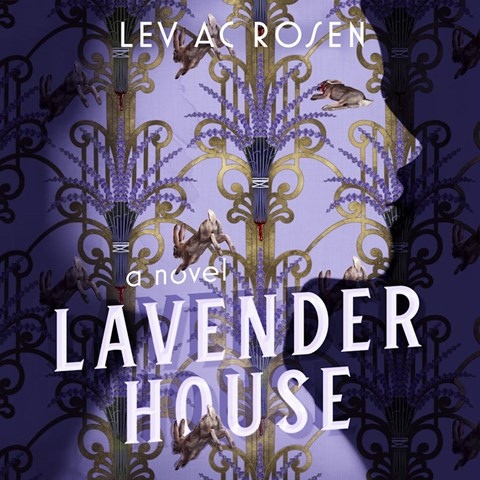 Lev AC Rosen's superb historical murder mystery, LAVENDER HOUSE, set in 1950s San Francisco, features a cast of queer characters who are funny, petty, selfish, loving, dramatic, loyal, and vindictive. In other words: They're all messy, flawed humans. Vikas Adam captures every character with vivid, distinct voices. But it's the way Adam voices the first-person narrator, Andy, that makes his performance truly shine. Andy is an ex-cop who's been fired from the force after being caught in a raid at a gay bar. He's lost, ashamed, and lonely when the matriarch of a wealthy queer family offers him a job: She wants him to find out who murdered her wife. In the family's lavish mansion, Andy finds a group of queer people who love each other openly—and suddenly he's imagining a life for himself he never thought possible.
Adam gives Andy a gruff, no-nonsense voice, gravely and low. It sounds like the voice of someone who's been trying to be a certain way—embody a certain kind of masculinity—his whole life. But as Andy comes to know the family better and begins to let his guard down, his voice softens, and Adam lets more real emotion seep into his words. It's a subtle but powerful transformation, one that mirrors the growth Andy experiences over the course of the novel. I was so engrossed in the story and the performance that I missed my exit while driving—and if that's not an endorsement, I don't know what is!
LAVENDER HOUSE features queer biological and found family, and so does Anna-Marie McLemore's SELF-MADE BOYS, a beautiful YA retelling of THE GREAT GATSBY. In their reimagining, Nick is a Latino trans boy from Minnesota who arrives in New York hoping to start a new life as himself. Trans narrator Avi Roque voices Nick with a mix of warmth and apprehension that reflects his complex character and conflicting emotions. Roque easily moves between Spanish and English and perfects voices for a range of characters of different genders, ages, and races: Gatsby, who is also trans; Nick's cousin Daisy, who's passing for white; and Jordan Baker, who has her own secrets. Kyla Garcia brings some sparkle to the story with her narration of the letters Daisy sends home to her family, which she reads with a precise, refined accent. It's easy to imagine Daisy flitting around at parties, charming strangers, and playing the perfect society girl, all while hiding the truth of herself. She eventually finds her way, though—as Nick and Gatsby slowly fall in love, all of these queer characters come to know and trust each other in ways that change their lives forever.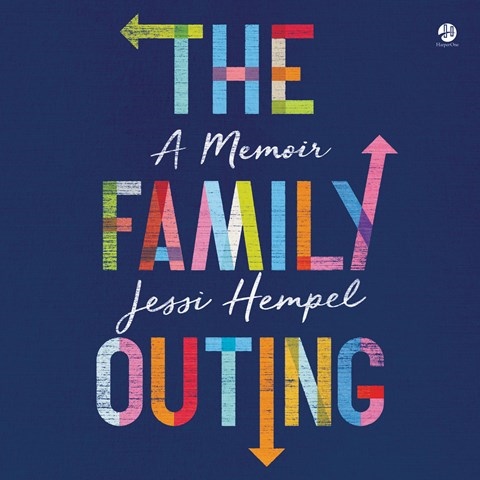 Sometimes everybody's gay in real-life families, too! In THE FAMILY OUTING, Jessi Hempel recounts the growth and healing that occurred after everyone in her family came out. Over the course of several years, she and her dad came out as gay, her brother as trans, and her sister as bi. Her mother opened up about trauma she'd experienced as a teenager but never talked about. None of these revelations came easily, and Hempel is honest about all the upheaval her family went through. But on the other side of conflict and change, they found new and more fulfilling ways of being a family.
Hempel's narration is as open and intimate as the memoir itself, and it highlights the obvious love she feels for her parents and siblings, her partner and kids, and her siblings' families. She's thoughtful and deliberate about the way she voices her family, giving them distinct voices that are never caricatures. She has the cadence and rhythm of a natural storyteller, and she infuses her performance with a lot of humor, even when sharing some of the hardest things she's been through. This is a serious but hopeful memoir with a lot of heart, and it's a true pleasure listening to Hempel read it.